Every month, our own Aaron Roden delivers some great one-on-one conversations with musicians on his Artist Home Podcast. But with the seventh episode, he's done something different—and pretty amazing.
The OK Hotel was one of Seattle's pivotal music venues from roughly 1987 until the Nisqually Earthquake damaged the building beyond salvation in 2001. The scrappy Pioneer Square venue became the epicenter of the local music scene for several years running. Nirvana played "Smells Like Teen Spirit" for the first time at the OK, just before they drove to LA to record Nevermind. Soundgarden, Tad, and Mudhoney were virtually house bands there. Queens of the Stone Age played their first gig at the OK. And the venue hosted creatives of all shapes, sizes, and stripes.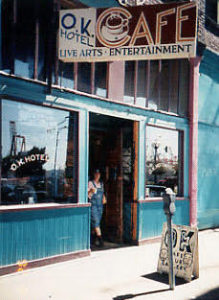 With Episode 7, Aaron's put together an incredible oral history of the OK Hotel, largely told from the vantage point of one of the club's former owners, Tia Matthies. The episode's peppered with anecdotes from local musicians and fans, who attest to the OK's mystique and never-a-dull-moment history. And Aaron's backed the reminiscences with a sublime vintage soundtrack of contemporaneous music.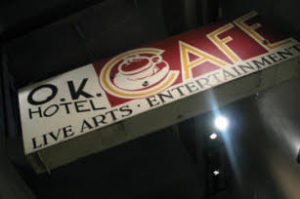 This isn't just a lively chat: It's a seriously great chronicle of a heady, singular time in Seattle. If you were old enough (or fortunate enough) to know the OK Hotel, you'll get some serious feels listening to this. And if you never so much as set foot in the place's door, strap yourself in for an eye-opening, ear-opening, and fun oral history.
You can (and really, really should) subscribe to and stream the Artist Home podcast on iTunes, Stitcher, and SoundCloud.
Here is a track listing of all the amazing music included in this month's episode: 
Nirvana – Smells Like Teen Spirit
Girl Trouble – Gonna Find A Cave
Fastbacks – Swallow My Pride
Treepeople – PP & TC
Love Battery – Out of Focus
The Gits – It All Dies Anyway
Gas Huffer – The Piano Movers
The Dead Milkmen – Two Feet Off The Ground
Great Grandpa – Favorite Show
Great Grandpa – Faithful