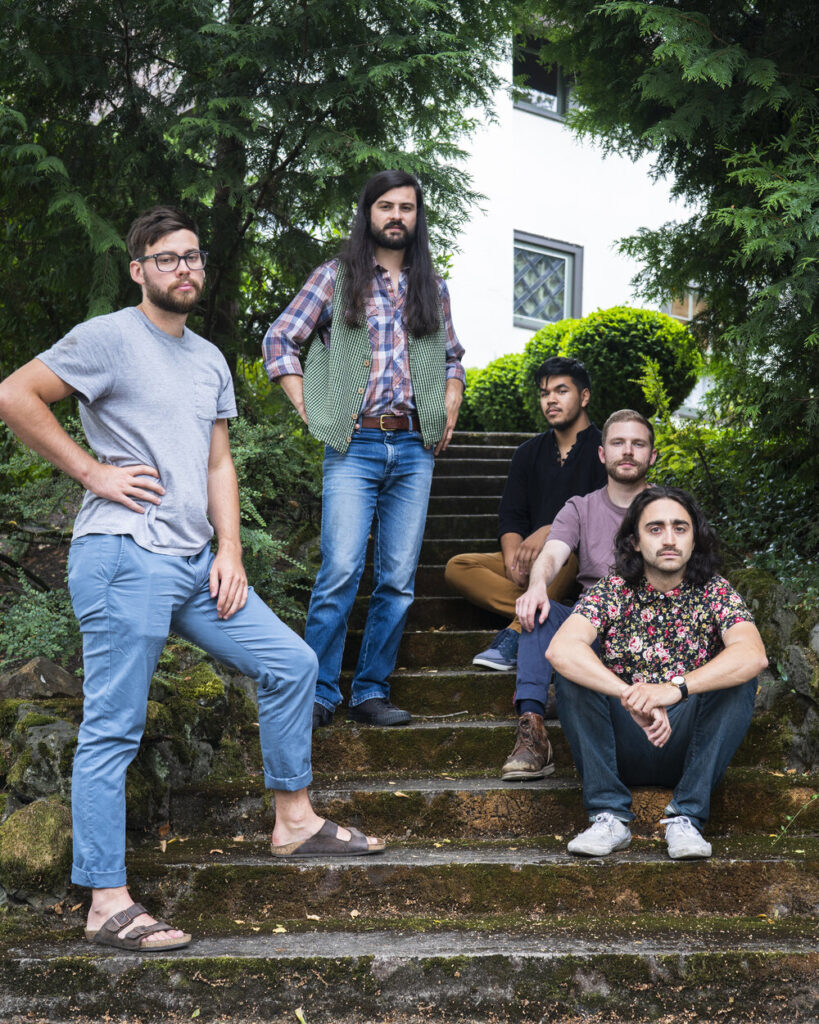 Seattle's joyous rock band The Whags are a focused group trying to move up in the scene step by step. And today, the band is premiering two new songs here on Artist Home as part of their journey towards the top of the musical mountain. The songs, "Fraction Of" and "Everything's the Same," are infused with mirth and bring a sense of wiggly, interested energy. It's the same vibe that the band prides itself on when they play a show, throw a house party or put on one of their now-infamous jamborees. We caught up with the band's drummer, Cam Hancock, to talk about the two new singles, their sound and what the band has planned for the future.
Where did the band's name come from?
We had been searching for something quite a while, as bands do. We were having a little group chat and someone made a type of "What's," like, "What's up?" But it auto-corrected to "Whags" by accident. We were riffing on band names and we thought something like that would be a really cool option because it kind of means nothing. It also, in that way, means whatever we want. The word itself can be this canvas and we can make it into an adjective or we can make it into this nonsensical word to describe the people who follow us – The Whags Family. It's pretty open and jovial, overall. We've created these little characters that we've done with our sticker art and they're part of this Whag group. Having something that's not a word that people associate anything with really allows us to create whatever that image might be.
There's a word in your history that particularly sticks out: jamboree. Can you explain the band's relationship to this festive hangout setting?
That's something that we certainly take to heart. I think something we've realized is that the nature of our music is really open and inviting. We don't subscribe to any genre or sound. We define ourselves when it's necessary but we all come from pretty diverse backgrounds musically and I think our songs reflect that. So, what we decided to do about a year ago was to try and curate more events that reflect that open nature.
This past June, we did the first official Whags Jamboree. We did some curated house shows and immersive experiences before that but this was first, like, branded event where we wanted to get lots of people together. It was put on by us with friends. We created a mini-festival atmosphere. In this case, we were the only band but we had art from friends on display and that was for sale. We had sculptures. We had a friend make special cocktails for the event. We ran it like a private party but one that was open to anyone. We didn't want to limit it.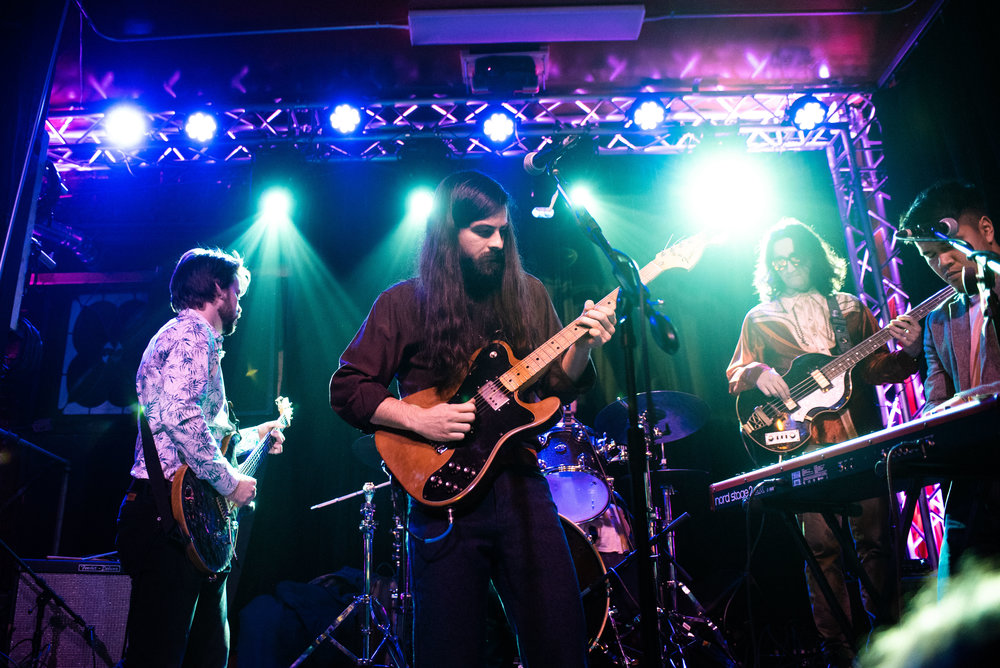 That was a huge success for us. We brought a ton of people out for that, both friends and friends of friends and people who came off the street. I think that really energized us in a great way. We've gotten a lot of satisfaction from those kinds of self-produced things. It takes a ton of work but the follow-through and the payoff is huge for us. Like I said, it seems more and more to reflect the kind of music that we're playing that's just fun, vibey and dancey, but not frivolous.
The band has two new songs out today: "Fraction Of" and "Everything's the Same." Why were these the songs you chose to record to release now?
Towards the end of last summer, we sat down and formed a plan and decided that we didn't exactly want to release an EP and we weren't ready for a full album. I think that we all believed that if were going to do a full album, we wanted it to be more cohesive. So, we decided to release a series of singles and these are the first two of five, or potentially more, that will be released this year. We recorded five singles in November. We wanted to display the breadth of our sound.
Of these five songs, there are two that pair really well together and another two that also pair well together. And there's one that stands alone. So, the initial idea was to pair the two like-sounding songs together and have it be this more Americana or straight-ahead rock sound. Then we would release the two songs that were more funk-based. But through some discussion we decided to actually pair the songs that maybe didn't sound super similar together.
The idea behind that was to show that we can make music one way but also that we push areas in other songs. But it's the same band, the same sound. We're just trying to show different avenues that we pursue with this band. We wanted to show our different sides with these new singles.
The songs are reminiscent of bands like Phish and the Grateful Dead. Do The Whags consider those influences?
I think we get a lot of those associations and it really depends on the generation that approaches us about it. Everyone in the band listens to the Dead pretty heavily but I think that we're pulling from a lot of different areas. Like I said, we have those diverse musical backgrounds but oftentimes when we get together in a room, the ultimate thing that we're trying to convey is that there's a conversation going on. There's an active conversation that's happening between the players, which is something that was foundational for The Dead and something they pioneered. I think Phish has taken up where they left off in that sense. So, I think we definitely embody that conversation but we're also trying to open that conversation up to the audience to try and make something that is fairly palatable. Something that has that pop sensibility to it without going into alienating realms. I think that's especially apparent in the studio tracks. We did a lot of trimming and a lot of cuts pairing down those songs to make them more concise to have that conversation be both relevant and tight.
The Whags are about to go on tour to about a dozen cities. How do you prepare for something like that?
The big thing is really honing in on these tunes. We got in this recording mode in the fall. Like I said, we recorded five songs and we were hammering those songs out for a while. Then we had a few shows around the holidays. So, we didn't abandon those songs but we put some of them on the back burner. Songs that would be coming out in later spring and the summer, we're not playing live yet. We want to save them, at least for the Seattle audience.
For tour, we're bringing those out. We're giving people a little bit of a taste. Going back through some of the catalog, we're trying to really – when we play songs in Seattle we tend to make our sets a little more diverse. We'll extend portions of the songs, build out other sections. But for tour, it's about trying to portray a concise image and sound of the band, which means going back to old songs and honing those in. We've also just finished three new songs that weren't part of the recording. So, as with everything, we're trying to constantly push for something new.