NEW MUSIC ALERT! Today, the Seattle-based band Warren Dunes, released their latest single, "Running For Cover," and we get to premiere it! So, check it out here:
And to celebrate the event, we wanted to talk with Warren Dunes front woman Julia Massey, the uber-talented, warm-souled singer and songwriter about the band's recent history, the inspiration behind their ear-worm of a song and what's coming up next for the family band.
What is Warren Dunes?
Warren Dunes is a state park in Michigan and it is also the name of my latest musical project, which I started with my husband, Jared Cortese, and drummer, Dominic Cortese, both of whom also play in their own band, Electric NoNo. They grew up going to Warren Dunes state park, hence the name.
What made you want to combine the family bands?
Jared and I had been toying with the idea of collaborating for some time and after many lengthy discussions and hypothetical scenarios, we determined that we were both mature enough to endeavor to do this. As some of our listeners know, Jared and I are parents to a child now, Carl, which has provided a lot of convenience to do things together as a family. Previously, we'd been jockeying and watching Carl while the other rehearsed at band practice and we thought that if we were in the same one we could try this adventure and bring Carl along for the ride. He's present for every practice and whatever shows he can be at.
How is the Warren Dunes sound an evolution from past work?
The impetus for Warren Dunes is calypso because Carl was obsessed with Harry Belafonte for the first year and a half of his life. It was a lot of "Jump In The Line" and "Angelina." And Jared and I both fell in love again with polyrhythmic genres as were listening to it with Carl. We observed this heightened danceability and felt like we wanted to capture that energy and be really specific about it.
What was the inspiration for your new single, "Running For Cover"?
Warren Dunes had already formed before the general election but once that happened, we felt like it was an opportune time to not only transform our sound but transform the lyrical content and resourcefulness of the band. In "Running For Cover," the lyrics reflect the general turmoil that we're feeling from the news cycle. But also it's part of the system that the band is creating to donate funds to beneficiaries that specifically put people in homes.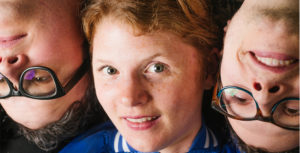 Why did you decide to take on this charitable responsibility?
We felt like we had to do something that was concrete and meaningful to us. So, for example, at our last show, we made our door money and we donated half of it to Aurora Commons. Could we have used that other half for the band or other expenses? Of course. But the idea that we have to work a little harder for the band is kind of the point. It holds us accountable.
How do you play TWO KEYBOARDS AT THE SAME TIME?
To be honest, I don't know how I do it. I really don't. Jared keeps calling me Keyboard Jesus. I tried at first to put them in a triangular form and I tried stacking them. But for some reason, those didn't click. It takes away a bit of the mystique, but I have a sneaking suspicion anyone can do it.
Album release. What's the scoop with that?
We are working towards that. We're going to release an album in the fall. Right now "Running For Cover" is the first single. Spekulation is going to do a remix of it and perform with us at an upcoming Barboza show. And we'll be on the Locals Only Show with Steven Graham on 107.7 The End on March 18th, which will be awesome. We'll be releasing a handful of other songs over the summer with an EP release in October.