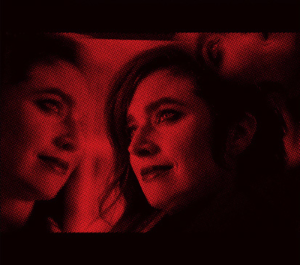 Let's just cut to the quick here, and explore a handful of notable releases that've emerged in the last few weeks.
Virago, Virago's Lament: Love and Fury bass player Jane Mabrysmith is a multi-instrumentalist who's cut her teeth in several local bands, and she's also been a member of Robert Fripp's Orchestra of Crafty Guitarists XIII. For Virago, her latest project, Mabrysmith takes center stage as frontwoman, guitarist, and principal songwriter.
She and her bandmates have cranked out a solid and powerful debut album that's not afraid to get dark and sludgy. There's a strain of the G word (grunge) in the pummeling guitar chords that buttress "Bad Scene," a swift kiss-off to a toxic relationship, and Zeppelin-esque stop-and-start grooves wind through the corrosive fake-news diss, "To Believe in You."
Virago's pro chops (bassist Amy Denio and drummer Alex Dillard form one formidable rhythm section) and Mabrysmith's imaginative songwriting contribute powerfully to Virago's Lament being an involving listen. I love how precise backing vocals surface at the end of "To Believe in You" like the Andrews Sisters temporarily bum-rushing a heavy rock band, and how "Once Upon a Caterpillar" dips its toes into expansive yet somehow intimate psychedelia.
You know a band's doing something right when the best song on their album is the longest. The epic "The New Day, The Mountain, The Sun, and the Shade" shifts from sturm-und-drang caveman heaviness to a chunky funk guitar that echoes David Bowie's "Fame," all delivered with near prog-rock precision. Alex Faide's guitars spiral and shift amidst Mabrysmith's singing, which slingshots from crooning to squealing to primal screaming. It's headbanging, wonderfully hooky, and muscular as hell—all at once.
(Virago celebrates their album release with a live show at The Royal Room in Columbia City Friday, May 31. Tickets here.)
Patrick Galactic,"My World Alone": I've yet to be disappointed by any of space-folk troubadour Patrick Galactic's output, but "My World Alone," his newest single is, in a word, stellar. Built on simple, insidious synth hooks, it's an exhortation of simmering passion that whirrs along prettily even as toxic masculinity, anger and hostility surge to the surface.
By the song's close, when Galactic's voice is purring out, "Don't make me hurt you, baby," in mechanized but gorgeous two-part harmony, the song's turned as eerie as it is disarmingly lovely. And this is one disarmingly lovely pop song, albeit equipped with some unexpected bite.
Scarlet Parke, Flight Risk: It's ironic to call such an engagingly radio-ready record a creative risk, but Flight Risk finds Seattle-based singer/songwriter Scarlet Parke straying quite a bit from the earthier soul sound of her 2016 EP, Long Night.
The template for Parke's latest full-length is sleek, state-of-the-art dance music, and she's employed an impressive list of collaborators behind the boards. Macklemore producer Elan Wright and Jake Crocker, who's done similar honors for Ryan Lewis and AlunaGeorge among others, contribute to a release that's as polished, warm, and hook-laden as anything elbowing its way into the mainstream today.
Besides the production, Parke's voice is the glue that unifies Flight Risk. She's a versatile and nuanced enough singer to lend a sense of humanity and sultry personality to the songs, even when the shiny production occasionally threatens to get repetitive (an occupational hazard with dance records, of course).
The record's rife with potential hit singles, but "Luna," which slinks along like a perkier, more soulful variation on Portishead, the rhythmic self-empowerment of "Man Like You," and "Night," an affecting slow jam with great loud-soft dynamics, particularly stand out. All told, Flight Risk is the right side of accessible—a dance pop album that encourages you to shake your ass without disengaging your brain in the bargain.
(Scarlet Parke celebrates the release of her upcoming LP Flight Risk at Barboza on June 14th, with Little Wins beginning at 7pm. Tickets are $8 advance/$10.00 day of show, and are available here via Eventbrite.)