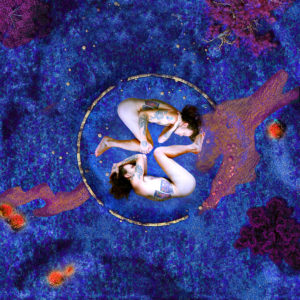 The striking Frank Correa cover art for Sense of Us, the new release from Seattle electronica artist Vox Mod, depicts dual images of the musician (born Scot Porter) nude in a yin yang/fetal position, in the center of a tableau that's somewhere between a coral reef and a psychedelic cellular organism.
It's an apt visual representation of the sounds within Sense of Us, conveying the flawed, pulsing life that's always made Vox Mod one of the most distinctive electronic musicians in the Northwest.
Part of that distinction lies in the stripped-down yet expansive grooves he employs throughout these seven songs. Mod/Porter first cut his teeth sonically as a drummer, so even the most overtly mechanized percussion on Sense of Us rolls and swings with a personality that most of his laptop-toting brethren can't begin to muster. He's also gifted with a sense of melody that's never subsumed by the rhythms.
Mod's first two full-lengths, 2014's The Great Oscillator and 2016's Pure Consciousness, embraced collaboration, boasting contributions from a Who's Who of regional talent (including producer Erik Blood, powerhouse soul singer Adra Boo, and Midday Veil's Emily Pothast among others). With the exception of longtime cohort Adam Straney's mastering, Sense of Us is a completely self-contained affair, with Mod writing, playing, singing, and producing every note.
That self-sustained model gives the record an impressive level of cohesion. He's still mining synth hooks that sound like soul riffs in a glittering new wave wardrobe, but his voice serves as the principal unifier this time out. It's a solid croon that Mod's production morphs into another wonderfully imperfect instrument, wrapped in spectral harmonies and glitchy speed changes that add an element of nervous vulnerability to the songs.
It's a fair assessment that Sense of Us sounds less like seven distinctive tracks and more like one extended suite, and that's a great thing here. Songs ebb and flow beside one another with impressive seamlessness, even as the nuances grow richer with each listen. And Mod's wrought his most thematically strong songwriting on these tracks.
The uneasy truce between the cosmic and the earthly rears its head lyrically throughout. The concise, soulful glide of "The Other Side" salvages beauty from chaos ("Everything around us is in flames/ but I like to think It's beautiful / Across the universe"), and the short but heady "Your Skin" dives headlong into the depths of sensuality with its gently eddying synths and sensual lyrics ("I want to melt in your skin / Kiss me softly on the back of my neck"). "Empathagenic" couches its unvarnished anger at the state of the world ("I won't accept this shit / Systematic oppression won't make me quit / And I wish to burn it down") with an almost sprightly keyboard riff and Mod's pulsing vocal delivery.
Sense of Us's sustained grooves makes it a great repeat listen, and it represents the finest crystallization of Vox Mod's aesthetic to date. Think electronic music has trouble engaging heart, hips, and headspace all at once? Prepare to have that notion blown out of the water.
[Vox Mod plays his record release party tonight at Barboza, with Nearby and The Spider Ferns supporting. Tickets available here.]