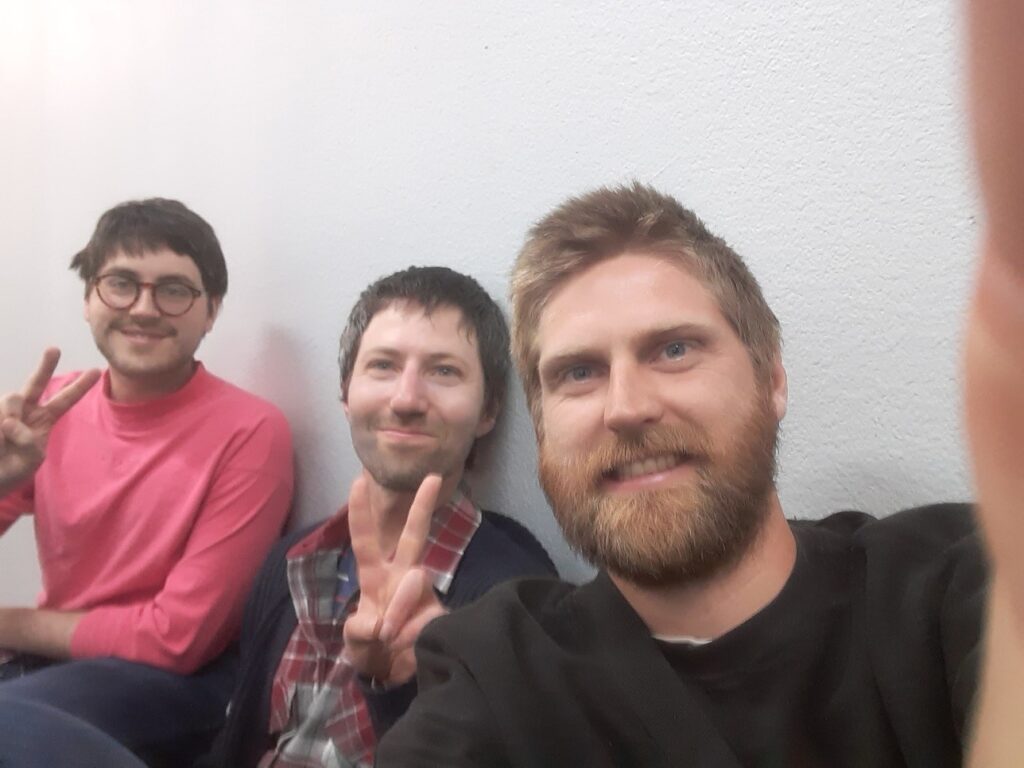 Rock and roll is a strange, paradoxical animal. On the face of it, traditional guitar-dominated rock can't help but offer an air of comfort and familiarity. But PNW trio Memory Boys blasts out ragged post-punk that manages to be something much more than the sum of its time-honored parts.
The resulting sound careens between in-your-face explosions of emotion, shudders of nervous unease, passages of introspection, and enough melodies and hooks to bridge the spaces between. That's a fancy music-geek way of saying that Frown Thrown, the band's latest long-player, is a damn great record.
Frown Thrown was recorded "in the anxiety ridden summer of 2020," and formally dropped about two months ago. As such, lead singer/guitarist/songwriter Grant Fairbrother's songs definitely tap into the general tension and frustration that seem to be especially pervasive right now. A fair amount of the time, that friction makes its presence known very loudly. "Silent Answers Typed" kicks the record's metaphoric door open with a blast of merciless high velocity riffing, Danny Werner's jackhammering drums, Alex Duccini's restless bass, and Fairbrother's eardrum-jabbing screams. And the opening minute of "All the Pieces Fit Together" sounds like neck-snapping thrash metal in a tattered flannel shirt.
The cathartic fury's reflected in Fairbrother's lyrics. There ain't a shred of ambiguity when he howls about "What data's done to stoke our fear/ our lies/ control our minds" on the driving album closer, "What Data's Done." And on "Places I've Never Gone," the protagonist's focus is directed unsparingly inward, addressing the chasm between who he wants to be and what reality's handed him ("so Dead inside, been doing the same thing most of my life, expecting a great big prize").
The path that Frown Thrown takes can be a rough and harrowing one. But the band tempers the noise-mongering and darkness with honest-to-God hooks, heart, and unexpected but welcome textural detours. "Loneliness," one of the album's singles, addresses existence in a COVID-isolated world with an utterly compelling MO, oscillating between almost sensual bounciness and a downtempo dirge that somehow remains catchy as hell throughout.
The absolute highlight on a record full of them, however, comes four songs in with "Red in the Face." It initially sketches a hard-luck scenario with a blue-collar weariness worthy of Bruce Springsteen ("ambition escaped In bad luck hardened mistakes"). But a few seconds later, Fairbrother acknowledges that the power to pull himself out of his malaise lies within him: "You know love could take it to the latter side if you let yourself come back." It's all delivered with a haunted croon that sounds like Joe Strummer gone slow-mo goth, over a bruised but lovely guitar melody, as synths hover on the periphery like an oncoming swarm of murder hornets.
Harshness and redemptive beauty have always run parallel throughout Memory Boys' work, but they've mastered that balance here. It ain't easy, but nothing in life worth cherishing is. And Frown Thrown is, without a doubt, a record well worth cherishing—thrown frowns, fury, and all.
Frown Thrown is now available at Bandcamp and can be accessed here.