It's a busy week for Long Dark Moon. The project, spearheaded by singer/guitarist/songwriter Aaron Starkey of Seattle rock band Gibraltar, debuts their video for "All Your Mountains," the first single off of their forthcoming full-length. And we're proud to premiere it here at Artist Home.
While "All Your Mountains" showcases many of the elements that make Gibraltar's sound great (an epic chorus, Starkey's impassioned vocals and contemplative lyrics, and fellow Gibraltar collaborator Holly Waits' elegantly forceful piano work), LDM finds Starkey embracing his Americana roots and integrating them famously into his material.
Long Dark Moon will also be playing "All Your Mountains," as well as several other cuts from their upcoming album, live this Thursday October 6 at Conor Byrne Pub (tickets available here). Given Starkey's penchant for pulling all the stops out in his onstage guitar playing, and the stellar quality of the songs on display, it's a show that should be more than worth the trek out on a school night.
Starkey chatted with us about the video, returning to his roots with Long Dark Moon, and where Gibraltar stands in the mix.
The video for "All Your Mountains" is quite beautiful. How much (if any) input did you have in the concept/visual presentation?
Jon Houser did an amazing job of not letting us ruin something really cool. He pitched us the idea, we said…hmm? Ok? And then he went and made this amazing thing that was deeper and richer than we could have ever conceptualized. [We're] really grateful that he made what he made, as it captures something real about the song—but in a way that is beyond, at least my, abilities.
The most obvious difference between this Long Dark Moon single and, say, a Gibraltar track is the presence of a pedal steel guitar, which leans into Americana/roots music. What else do you feel differentiates Long Dark Moon's material from your previous solo and band work?
LDM comes more from the song and then riffs, whereas the lion's share of Gibraltar might originate more from a riff or hook or a beat that is then crafted into a song. Neither is 100% one way or the other, but LDM was to have, by design, songs that could be strummed on an acoustic guitar to equal effect.
It feels natural to me to bend the guitar strings in certain ways that might sound "alt-country" as that's what i learned growing up…and then intentionally put aside while I explored other guitar forms for myself. But sometimes, it's fun to go home.
Was there a particular catalyst that inspired the formation of this current project (the songs, an interest in utilizing different sounds/instruments, something else)?
My upbringing was in Central Illinois, about an hour and half north of where the Uncle Tupelo guys grew up (I saw them numerous times in college when they'd play through on their way to/from Chicago to Belleville). Growing up in that area meant that there was an omnipresent musical atmosphere of classic rock and country…you just couldn't escape it.
At the same time, underground 80's music in the form of mix tapes and underground punk shows meant everything, both as a buffer against the dominant culture but also as a culture to identify and create as your own. For me, Uncle Tupelo synthesized that tension into a new and exciting musical form.
Long story short, they became one of my favorite bands. In the same way that grunge was the folk music of Seattle in the late 80's, the alt-country made by bands like Uncle Tupelo, The Bottle Rockets, and The Jayhawks, that was my folk music: Music made by, about, and for the people living in a region.
Fast forward many years to 2012 and I decided to put on a benefit for MusiCares, as i was a pnw chapter Grammy board governor at the time, and for a theme, i wanted to play the songs of Uncle Tupelo..and i put a band together of friends to play a few UT songs (and invited a bunch of other bands to play as well). Well, I ended up doing this 5 years in a row and the band solidified over that time into what became Long Dark Moon.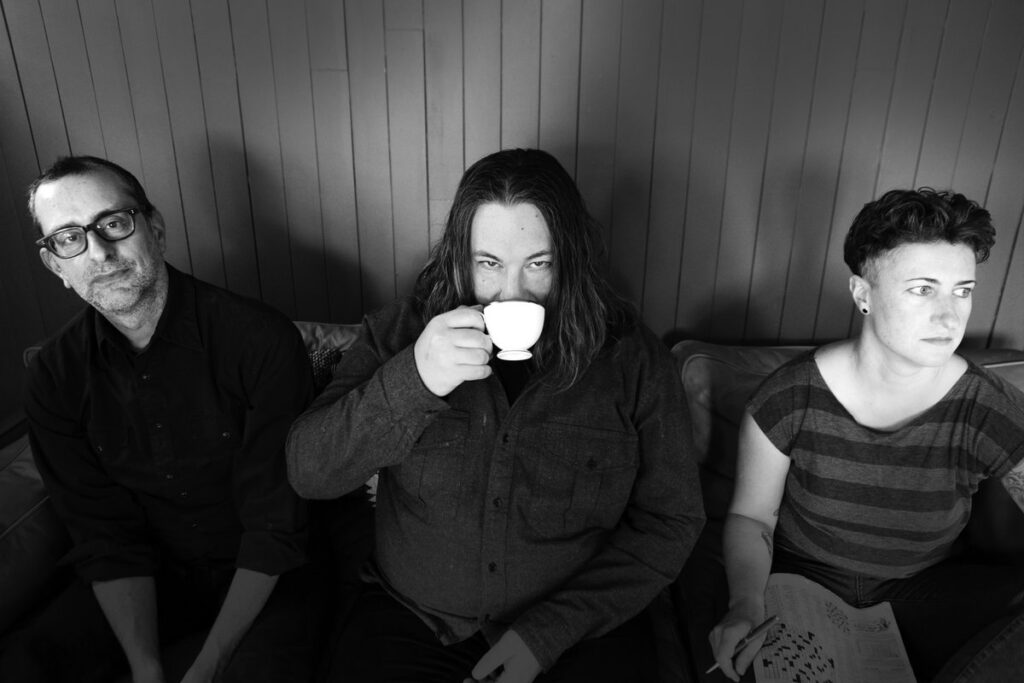 Holly Waits, a longtime collaborator with you in Gibraltar, joins you as a member of Long Dark Moon. Aside from her piano playing, what else do you feel she adds to this particular project?
Making music with your best friends is the best way to make music and I can't imagine doing this without her in the practice space or on the stage.
She adds her intensity, careful ear, multi-genre musical knowledge, and inventiveness to any musical project she's involved with, and so it is with LDM. We are foils for each other in the writing and performance aspect, and again, that works regardless of the genre.
I should mention that Jeff Baars, the drummer, grew up about an hour or so north of where I grew up, and was the first friend I made when I moved to Seattle 20 years ago. We played together in the short-lived band Oceanwires as well as other things throughout the years. Again, making music with your besties is the only way to go if you can do it. I'm lucky in that my friends are often also amazing musicians.
Unflinching self-reflection and self-examination are hallmarks to your lyrical stance in general, and it's definitely part of this song's DNA. Is this the case with the rest of Long Dark Moon's material?
I think that's the case for me all the time. In a song, outside of a song, at the bar, or at dinner with my family. I'd much rather go deep, than make small talk, and I think my lyrical approach is the same way, for better or worse.
This new version of "All Your Mountains" feels more toothy and muscular than the one entitled "Mountains" on LDM's 2015 EP, Mythologies. I'm tempted to partly attribute that to Matt Bayles' touch. Is that a fair assessment, or is that a direction you were actively pushing for on the Long Dark Moon material in general?
You can't go wrong with Matt Bayles. He's one of my favorites and he gets, intuitively, how the different parts should fit together for the music that we make. I mean, [Mythologies] was just meant more to be a temporary calling card and document of a moment. I never figured it would be around for this long before the new record would come out.
Will your Conor Byrne show on Thursday be strictly Long Dark Moon material, or are you planning on busting out some Gibraltar anthems?
It's all LDM all the time. However, we do enjoy a great cover or two sometimes, so we usually drop one into every set. But no, you won't hear a Gibraltar tune at an LDM show.
Any word on Gibraltar's status?
Gibraltar has a completed album…already pressed to vinyl, in my garage, that needs to be released. The pandemic made things, well, complicated, and so I'm trusting my gut and sitting with patience, for the right time to share it with folks.