We covered some great music here at Artist Home dot org in 2020. I'm proud of that, and I'm especially proud of how much Artist Home did last year to advocate for PNW artists, musicians of color, and local indie venues.
But I won't lie: Like everyone else who lived through it, 2020 really did a number on me.
At the start of the dull yet horrific real-life dystopia that was the COVID-19 Pandemic under the Trump Administration, I swore I'd document every little detail that crossed my path; every piece of art that inspired me or lent escape from the existential hell that all of us endured last year. But it didn't take long for me to go into survival mode.
On a lot of levels, I couldn't (can't) complain: I remain employed, am (knock on wood) relatively healthy, and have not lost someone close to me to the virus. And I heard (and read, and watched) things that unquestionably helped me through last year. But instead of getting on the bully pulpit about a lot of it like I wanted to and should have, all of that great art became a life raft for me. I clung to it for dear life, but often didn't have the willpower or drive to document or champion a lot of it.
As such, I've decided to reclaim my 2020 by chronicling some of the music I either loved but didn't write about, or stuff that somehow flew beneath my radar. Now that a vaccine's circulating, and the federal government's now run by someone who's not hell-bent on gratifying his own id at the expense of the entire country, it's a good time to take stock in some of the (very, very) good music that helped get me through one hell of a year.
Ideally, this is me paying it forward. After all, we're still not completely out of the tumultuous waters of the Pandemic, so sonic life rafts remain as vital now as they were last year.
Enough yakking. Read, listen, and enjoy.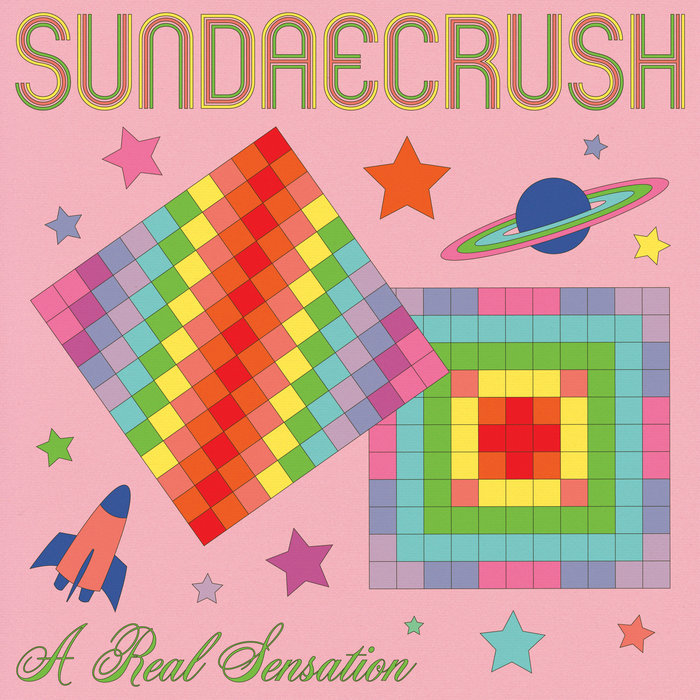 Sundae Crush, A Real Sensation (Donut Sounds Records): This Seattle indie band's first full-length is a deceptive little confection. Their playing is endearingly zero-f**ks rough, and they've got a wonderful tendency to segue into playful silliness, just for the hell of it. One track, "La La," ends by gradually speeding up until it sounds like Alvin and the Chipmunks driving over a cliff, and "Dudes Being Guys" merrily slingshots through girl-group, primitive punk-pop, and electro-dance movements in the space of four hilariously ADD minutes. That unpretentiousness and sense of humor, however, cleverly camouflage some trenchant, surprisingly deep lyrics and a set of revelatory, oft-irresistible songs that are all over the place, even as they cohere into one very satisfying, concise whole. 
The low-key, lovely "Lick it Up" finds lead singer Jena Pyle purring over a winsome melody that evokes jangly '80s-vintage British pop, Tropicalia breeziness, and girl-group swooniness all at once. And you won't hear a more winning bit of Stereolab-meets-Motown in a Velvet Underground funhouse mirror than the sublime "Good Boy." Meanwhile, the wonderful "Green Lake" garnishes its sweet tunefulness with fluttering flute notes, a warm saxophone, soaring paisley-pop harmonies, what sounds like a solo for a water bong, and a sharp, direct lyrical examination of depression. If I'd have actually emerged from my default existential-dread-induced fetal position last year for at least long enough to compile the 10 Best PNW Records I heard in 2020, A Real Sensation woulda been a shoo-in for the list. 
William Wesley Bullock, Beast (self-released): Singer/songwriter/guitar player William Wesley Bullock aims high, crafting great songs that draw from a can't-miss well of inspiration and influences. Hints of Bullock's late, great Americana/dark cabaret band Bat Country surface, most notably on the elegantly brooding "All That we Keep." But Bullock's too strong of a tunesmith, and his romantic streak too defiant, to cave in to navel-gazing. 
"Just for Spite" gooses some sweet, trebly guitar strums with a hyper backbeat, and the jaw-droppingly great "But Not to Keep" sounds like the marriage between Social Distortion and Cheap Trick that you never knew you needed. Elsewhere, Beast evokes Husker Du's anthemic blue-collar punk, glam-rock grandeur, Johnny Marr's shimmering sense of melody, and especially Elvis Costello's  acerbically snappy wordplay—all while resolutely sounding like its own animal. If you love any of the above touch points, and relish the notion of someone who's able to marshal them all with style and hooks to spare, you should definitely give a listen. 
Erik Blood and Gary V, "Rent is Due" (self-released)
Erik Blood and The Envy of Denmark, "What Happens on Friday" (self-released)
Erik Blood and Nearby, "Buffoon"  (self-released)
If you're a regular visitor to this corner of the virtual universe, you may recognized Erik Blood's name from the remarkable story about an unreleased movie that Blood and Corey J. Brewer co-scored (If you are following said story, you should go to this Letterbox'd link for all important updates). 
But Blood's also a craftsman of a brand of pop that fuses shoegaze, electronica, and funk into a distinctive beast all its own. He spent November of last year recording a song a week, with various collaborators, and they're all most definitely worth catching.
"Rent is Due," his collab with Gary V, is probably the can't-miss sugar buzz of the three; propulsive, exhilarating synth-pop that builds to a wonderfully exultant finish.  "What Happens on Friday," meanwhile, finds Blood and The Envy of Denmark locking into an imperfect, warped groove that unapologetically wears its heart on its sleeve, even as it chronicles the ennui of being self-isolated during a pandemic ("Gotta stay home, gotta stay home").
Last but not least by a long stretch is Blood's latest meeting of minds with Irene Barber, AKA Nearby. "Buffoon" plays almost like a lost track from Blood's magnificent 2016 solo effort, Lost in Slow Motion (on which Barber plays a prominent and welcome role). Barber wraps her warm voice around a steely but strangely sensual mechanized groove, and the net result's straight-up alien-beautiful—sort of like The Cocteau Twins with stars in their eyes, covering some long-lost Kraftwerk song. Blood's gift for atmospherics and sense of feverish romance prove to be the common threads through all three tunes—the feeling that someone's holding fast against a harsh and merciless world by daring to feel. And if there's anything worth climbing out on a limb for after the last year, it's our humanity.