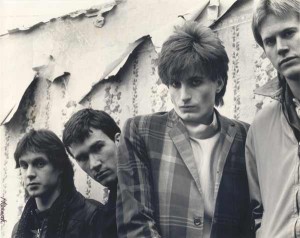 For the benefit of the uninitiated: Spokane is a rural Eastern Washington manufacturing town, isolated from the rest of humanity by Canadian wilderness to the north, arid Palouse plains to the south, the Cascades to the west, and the Rockies to the east. Even today it's known as a conservative little place without much patience for anyone who wanders outside social norms. Three or four decades ago, though, it was about a thousand times worse.
At first blush, it's the last place you'd expect to have spawned a thriving punk rock culture in the late '70s and early '80s, but spawn it, it did. All the familiar elements were in place—bored, disaffected kids; an intolerant, conservative environment; untethered creativity; some genuine talent and angry youthful energy (the latter being a lot more prevalent than the former); and trickles of inspiration from outside the backwater Petri dish.
Even if you know Northwest rock history like the back of your hand, exploring Spokane's Reagan-era music underground is a real eye-opener. SpokAnarchy!, a terrific 2011 indie documentary directed by a small collective of scene survivors, provides a definitive portrait of that time and the outcasts who lived it.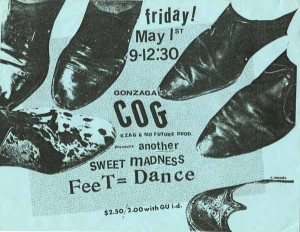 The movie traces the scene's beginnings to Sweet Madness, probably the first Spokane band to take the path less traveled by playing and recording their own original music. The tight, high-strung new wave band combined The Cars, Devo, and Elvis Costello with the soot of their hometown, and in 1978 they played an all-originals set at a party at local artist Charlie Schmidt's studio. From there, Sweet Madness lead singer Jan Gregor figured out that he could bypass the cover-tune-heavy local club and bar scene entirely, so he rented halls and secured liquor licenses for one-night shows, promoting them by plastering flyers all over town.
Gregor and his bandmates became the informal founding fathers of an entire subculture in their sleepy hometown. Teenagers inspired by Sweet Madness's tireless gigging and creativity formed their own punk and new wave bands. Performance artists, musicians, and outcasts of all types began cross-pollinating. Venues like Moe's Auto Body (an old auto shop crudely repurposed as a music club/skate punk haven) and 123 Arts hosted myriad varieties of creative insanity. And a fertile 'zine culture sprouted to chronicle it all. Former SpokAnarchist-turned-sideshow-performance-artist Tim Cridland captures the essence of the era when he quips, "If you're in a small town, you've gotta make your own weirdness," in one of the movie's interviews.
Like a lot of music scenes that flare up brightly for a few years, Spokane's punk movement largely faded by the end of the 1980s. The town's repressive atmosphere proved too much for a lot of ex-punks, who scattered to the winds to escape its confines. And the simple reality of growing up likewise contributed to the scene's further erosion.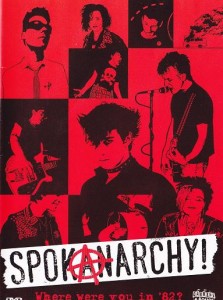 SpokAnarchy! serves as a legitimate historic document today, so it can't entirely avoid nostalgia-tripping at certain points. But there's a scrappy unpretentiousness to all of the oral history on parade: Every musician and scenester involved readily acknowledges that, at the heart of it, Spokane's punk scene represented nothing more or less than a bunch of bored and despondent suburban teenagers making shit up as they went along. Moreover, SpokAnarchy! nails the universality that fuels the birth of music scenes in the first place. Restless youth today may be implementing laptops and websites in lieu of the crudely-Xeroxed 'zines and handmade cassettes of yore. But the impulse to channel frustration at the world into art remains as timeless and natural as breathing.
Spokane Underground Music essentials:
Various Artists, SpokAnarchy! Original Soundtrack (Flat Field Records): Even if you haven't seen the movie, the soundtrack to SpokAnarchy! effectively captures the lightning in an Old English 800 bottle that was Spokane's '80s underground rock scene. Choice cuts from two of the era's top acts (Sweet Madness and Spokane hardcore punks Vampire Lezbos) surface, but the one-offs and unknowns are the big revelations: PP-Ku's "Brainwashed Bimbos" sounds like the B52s going goth, Cattle Prod back the tribal throb of "Don't Mind Walking" with an irresistible bass hook, and Terror Couple's rough gem "This is Spokane, Fuck LA" is the great lost Cure track Robert Smith woulda recorded if he'd have been a pissed-off kid from the American suburbs.
Vampire Lezbos, Vampire Lezbos (Flat Field Records): Spokane's greatest punk band wedded the genre's ripsaw guitar chords, neck-snapping tempos, and hollered vocals with unexpected fragments of psychedelia ("Phone Soliciter"), mid-tempo proto-grunge ("Monkey"), and even funk (the unfortunately-titled "Macho Fag"). There's not a bum track on this ace reissue of the band's 1988 full-length, but the balls-out brilliant "Plasma" could be the Lezbos' masterstroke—a two-minute saga about donating blood for survival money, accompanied by gothic guitar squalls and a knuckle-dragging, corrosively catchy garage-rock riff.
Sweet Madness, Made in Spokane 1978-1981, Volumes 1 and 2 (Light in the Attic Records): Before grunge and the internet, the Pacific Northwest's geographic isolation pretty much doomed even the region's most talented bands to oblivion, and the failure of Sweet Madness to break out beyond Spokane's city limits represents one of the most frustrating what-ifs in the annals of Northwest rock. These two lovingly-assembled vinyl reissues aren't just valuable time capsules of Eastern Washington's underground music culture: They're proof positive that one of America's best new wave bands sprouted fully-formed from the most unlikely location in the Lower 48. Sweet Madness definitely wore their influences (The Cars, Devo, and The Jam) on their sleeves, but their blue-collar underdog spirit rendered them truly unique, and they played with the high-wire energy of a punk band. Lead singer/guitarist Jan Gregor and keyboardist/singer John Robison penned a surplus of killer tunes, too: Gregor's "Concrete River" is a vivid evocation of youthful romance amidst industrial ruin that's as affecting as David Bowie's "Heroes." Seriously crucial stuff.