Jodi Ecklund lives two miles away from the Clock-Out Lounge, the Beacon Hill music venue she opened a few years ago that provides pizza, drinks and enough room for a small stage, small backstage and space for about 250 people to see a show. Ecklund has made the trip countless times back-and-forth, on-call seemingly 24/7, as she books live events and manages the house in its day-to-day operations. And while the average passerby might not look at the modest, blue-painted exterior and think the Clock-Out is one of the most important buildings in the city, it is.
The Clock-Out is one of a few dozen of small- and medium-sized clubs in Seattle (think: venues like the Columbia City Theater, the Sunset, the High Dive, Café Racer). But given all the change in the city – countless new apartment buildings, rising rents, the Amazon expansion – these clubs that once thrived decades ago are running on a much thinner margin of error and with a much smaller staff, despite the fact they are crucial vertebrae in the city's cultural spine.
Seattle is a musical city. People worldwide know names like Pearl Jam, Jimi Hendrix, Macklemore, Heart and Nirvana. But what's even truer about Seattle's music culture is that it offers the chance to experiment. In many ways, cities like Los Angeles and New York and Nashville are places where you move to with skills in tow, songs in hand and direction in mind. But Seattle, perhaps more than any other modern American music Mecca, is a place where you can begin. You can be rough around the edges. You can start a project and just as easily end it to start another. And venues are essential for this.
Venues are crucial to Seattle's reputation as a city that produces great music. Bands like Thunderpussy, The Black Tones, The Head and the Heart and La Luz exist in part because there were places to play when they started that offered decent sound, drinks and room for a few hundred-audience members. But what if these smaller venues vanished? What would happen to the city then?
To open the doors for a show, places like the Clock-Out has to employ a booker, security, a bartender, a sound person and someone in the kitchen. Not easy. It's often a labor of love.
"We need to be a launching pad for the music industry," says Ecklund, a former touring musician with decades of experience booking bands. "When I lived in San Francisco and the tech boom started, pretty soon artists had moved to L.A. and there wasn't much of a music scene left in the city. That's always terrified me."
Seattle's Robb Benson, the big-voiced front man of the rock 'n' roll band, Stereo Embers, has made a modest-though-steady income off gigs in local music clubs since his start in the late 90s. He's opened for bands like Death Cab for Cutie, he's headlined the Tractor Tavern and Crocodile Café, and he's worked with Pearl Jam's Mike McCready. He also met his wife Darla in a club that no longer exists, Sit N Spin. Smaller clubs, Benson says, are necessary for a band's early development. 
"Someone may be in the greatest band in the world, but they have to start somewhere," Benson says. "They need these smaller clubs to build their audience. Music is not a lucrative job on most levels until you hit the top of the pyramid. But to me and all my closest friends, music is our reason to be here." 
Shaina Shepherd, whose band BEARAXE has been gaining swift recognition in the Emerald City of late, agrees with Benson. Shepherd has played over 200 gigs in and around Seattle in the past two years in more than 20 venues. And for BEARAXE, 2019 culminated with an invitation to play Timbrrr! and a main support slot at the New Year's Eve celebration at the Showbox with Thunderpussy.
But for Shepherd, none of this would have happened had it not been for small clubs and open mics, where she honed skills and forged creative bonds. 
"The Showbox represents a milestone for artists," she says. "There are few avenues in town that can offer that incentive for up-and-coming creatives to aspire to. But it always starts in the smaller clubs. [If those clubs went away] I'd have to choose to stop playing music or move. It's happening already to many artists I know." And it doesn't stop with just venues, she says. "There are so many house concerts and in-home jams that are in constant fear of closure – what if their landlords sell?"
Seattle Theater Group's Adam Zacks, whose organization books some of the biggest venues in the Emerald City and who founded both Sasquatch and Thing music festivals, says smaller venues are vital to his own business, even though he isn't directly responsible for filling seats or selling tickets in modest clubs.
"Small venues are critical for artists to develop their craft and build an audience," Zacks says. "They are the beginning of the pipeline that leads to our theatres and beyond. These are our modern day clubhouses and community centers. Intimate venues create community and provide an opportunity for us to interact and see what each other looks like beyond our profile pics. It feels more critical than ever to protect that."
Recently, one of Seattle's hubs for live jazz – Tula's – had to close its doors. The place offered a stage, an audience and a paycheck to many of the city's most talented players, including pianist Marina Albero, drummer D'Vonne Lewis and bassist Evan Flory-Barnes, to name a few. The club closed, though, because of a lack of a long-term lease and the prospect of a lengthy redevelopment of their dilapidated Belltown home. And while there is a chance Tula's could be back a few years down the road, Seattle is without the spot for the foreseeable future.
There are many factors that contributed to the closure, but one of the major reasons it closed was because it just didn't have the business, says Tula's longtime manager, Jason Moore.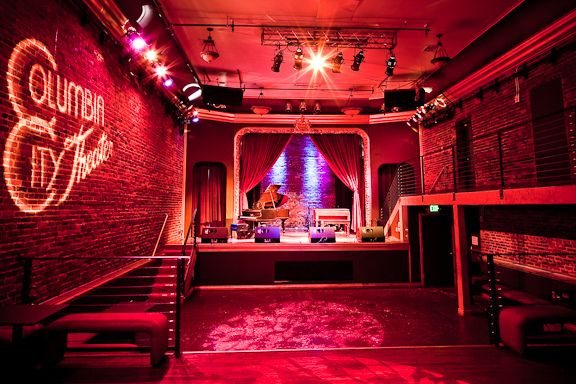 "We were around for so long," he says, "I think people thought Tula's would always be there. It's not the city's fault – I don't blame the rise in minimum wage or the soda tax. But is Seattle a going-out city like New York, Miami or Los Angeles? Not even close."
Moore says it cost about $1,500 a day to operate Tula's, and that was with a small staff wearing many hats. Over the years, Tula's had to trim its staff because attendance dwindled as more options presented themselves to patrons (read: Netflix and giant HD TVs). Moore notes that if Tula's had an event booked on, say, a Sunday night when the Seahawks were playing, often many of the reservations made weeks prior would go unfulfilled. This, he says, can lead to tragedy. 
"Music clubs are the cultural backbone of the city," Moore says. "I don't go to the ballet, but the ballet should be here. If we're to be a major city, we need jazz clubs and live music clubs. The Moore, the Showbox, Neumos, these are big places. But there's something about jazz in a 90-seat room that's just magical. We need it."
Seattle's Merrilee Rush, who rose to fame decades ago with her hit song "Angel of the Morning," remembers the value of venues in the Seattle-Tacoma area when she was learning the ropes of performance and gaining fans. Before she played bars and clubs (which were much smokier back then), Rush regularly played teenage dance halls – more en vogue at the time. To this day, those nights remain her favorite musical experiences of her career.
"The teenage dance circuit here was a huge thing," Rush says. "It started around 1959 and went through just about 1970. Roller rinks, ballrooms, dance halls, armories, we played anything that would hold a lot of people. For me, that was the most fun time. I really honed my skills over those years."
Live music venues obviously impact the artists who play them. But they also impact other folks in the music industry, like artist managers and fans. Seattle's DeVon Manier, who's worked in local music for nearly two decades managing bands like Fly Moon Royalty and The Black Tones, says if venues left Seattle en masse then other towns might pick up some of the slack. But, he says, this would damage the trajectory of many bands and hurt Seattle's culture at large.
"If the smaller venues went away," Manier says, "Seattle would be missing out on a chance to continue nurturing the music. Smaller shows would eventually take place in surrounding areas outside of the city. But that can sometimes result in low attendance due to lack of public transportation. It would also limit what tours come to town. Not everyone can play a 1,000-cap room, sometimes a 200- or 300-person room works best."
Charles Bracelen, an avid music fan who attends more than 50 shows a year, often with friends, says smaller venues give you "more bang for the buck" than bigger concert halls, adding, "[These days] we find ourselves going farther afield for events. I know nothing stays the same, but it's hard to say goodbye to venues. We'll keep dancing, though, seeking out the brighter voices where the music people go."
If more venues like Tula's (and the Highway 99 Blues Club, which also recently shuttered, and Sit N Spin) dry up, the identity of Seattle will shift into the unprecedented. While many move to this city for its arts and music culture, if the people don't patronize the small- and medium-sized venues, these places will be forced to close up shop and, perhaps, move elsewhere – just like the artists themselves. And if the artists go, what would Seattle become? Perhaps just one big cardboard box with a painted smile on the exterior. 
"Resources are slim," explains Shepherd. "Artists are keeping their own industry alive until festival season in hopes the tech crowd's annual music venture leads them to our shows. And we know they'll like it because that's, in part, why they chose Seattle – to be a part of this culture of freethinkers and rule breakers."
But, she says, there is great risk.
"A lot of my friends are moving to Nashville, Los Angeles, Chicago," Shepherd says. "We're making money on shows and performances, but they are too few and pay way too little to live on. Those other towns have a history of supporting their artists in-house and cultivating audiences on a shared pride, they don't wait for them to garner national attention before supporting. But, for us in Seattle, music is not our hobby. It's our livelihood."