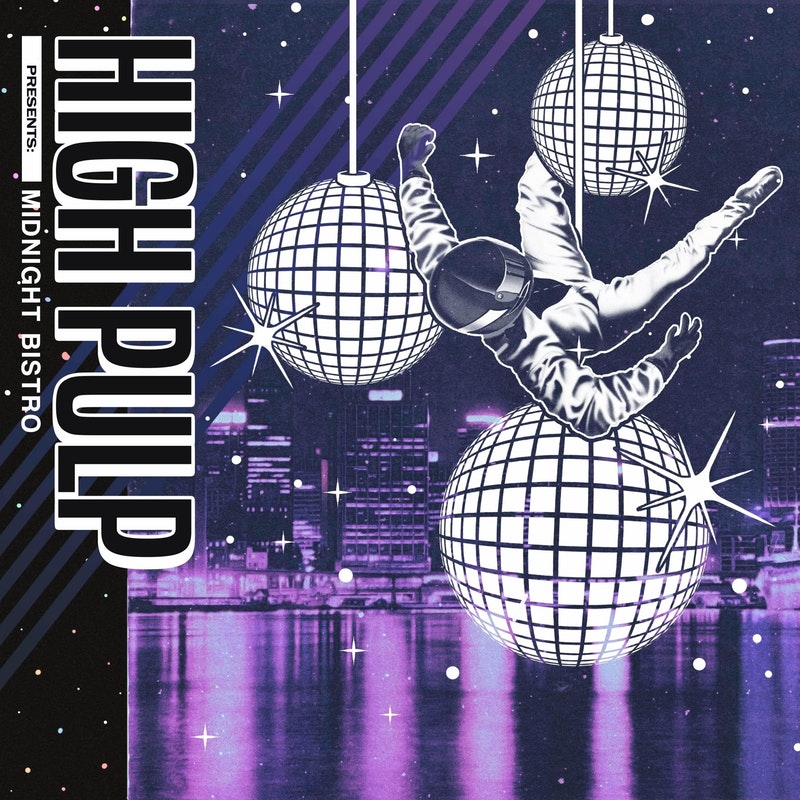 Seattle jazz collective High Pulp have been doing their very unique thing for about four years now. They're a prime example of a new breed of jazz combo—one that uses jazz virtuosity and motifs as a gateway into a bouillabaisse of genres.
Sonic omnivores who freely cherrypick from funk, soul, electronica, and hip hop, High Pulp boast the kind of chops and experimental spirit that jazz hardcores can appreciate, deployed in the service of tracks intriguing enough to work on adventurous jazz newbs.
Their 2018 debut full-length, Bad Juice, was a sterling sonic declaration, with tracks that ran jazz through filters of forceful horn-powered funk ("Smooth"), sleekly-rubberized synth pop flourishes ("Ezell's"), and almost shoegaze-pensive beauty ("Dave's"). And last month's single, "Broken Little Dolls," attracted no less than Bear Axe vocal powerhouse Shaina Shepherd as a collaborator amidst a winning soul-jazz hybrid.
Now the band's returned with a new single, "Midnight Bistro," which we're premiering exclusively here at Artist Home.
"Midnight Bistro" is a characteristically funky instrumental that begins with a whoosh of synths and some percolating rhythm guitar. Things lean into slickness before they get goosed by wiggly synthesizers that wouldn't feel out of place on an old Ohio Players record. Then jazz horns pipe in, lending velour warmth to the mix. It's like the great lost theme song to some '70s private eye show, right down to its compact two-and-a-half minute running time.
High Pulp plays live PNW gigs three times in as many months; at Portland's Goodfoot Pub and Lounge August 28, The Royal Room in Columbia City September 8, and Fremont's Nectar Lounge on Halloween night. Needless to say, their rep as ace instrumentalists precedes them, so they're likely to deliver onstage, and then some.