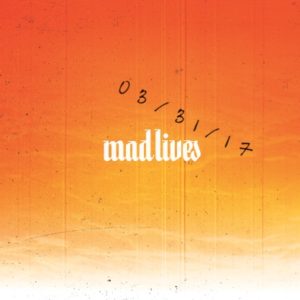 There's undeniably something elemental about The Maldives' sound. After all, roots music, folk, and country—sub-genres that, at their best, have always evoked the Earth and the elements—form the band's bedrock. But like so much that's elemental, The Maldives' longevity (13 years and counting) and dependably awesome live presence can be taken for granted with alarming ease.
Once anyone hears Mad Lives, it's unlikely they'd ever take The Maldives for granted again. The band's latest long-player isn't just the finest record in their reliably sturdy discography. It's the kind of fully-realized, sustained, unerringly brilliant work around which cults are born.
Two of The Maldives' undeniable calling cards—their chemistry as musicians, and lead singer Jason Dodson's unaffected tenor voice—remain cornerstones of their sound. From there, though, Mad Lives frequently sails into uncharted waters. You won't hear a lot of the patented roots-rocking Maldives here, the epic force of "The Fight" notwithstanding. You will hear a nervy but astonishingly consistent merger of earthy roots influences, chamber-pop sumptuousness, near-gothic atmospherics, and psychedelia.
The uncharted waters that Mad Lives explores are often dark ones. I have no idea if (or how much of) this record was composed under the dark shadow of Donald Trump's ascension, but there's no denying that the album plays like a search for enlightenment and truth in a world gone merciless and insane.
"No Sense in a Slow Death," the record's opening track, establishes that mood at the outset. With its purposeful acoustic strums, distant slide-guitar moaning, and steady but languid tempo, it moves along like a weary traveler fighting to continue on through an arid, blindingly bright desert. Dodson's lyrics reinforce the weariness as his words turn in on themselves with each successive footfall in the proverbial sand ("I believe that we are fearless when we're free/I know we are not fearless, we're not free").
Mad Lives | On Comes The Night | Official Album Teaser #1 [HD] from The Maldives on Vimeo.
That headlong walk into adversity takes an almost apocalyptic turn with "The Fight." Faustine Hudson's tribal pounding hovers beneath Adam Bily's whirring dark-church keyboards, then dramatic blasts of horns and strings burst in at the song's three-minute mark, only to drop off like they've fallen from a cliff a minute later. Dodson's dread-informed croon and Tim Gadbois' fragile-sounding acoustic guitar are left standing alone before the menacing toms and electric guitar melody thrum beneath them to a fading, uneasy end.
The sheer gorgeousness and heartfelt execution of Mad Lives' songs, and Randall Dunn's lush production, are what make the album a compulsive repeat listen despite its often harrowing lyrical turns. There's redemption in the soaring harmonies, grandiose instrumental build-up, and exhilarating dynamic shifts of "Staring at the Sun." "A Day at the Beach" edges towards straight-up sensuality with its dirty fuzztone guitar, sweet wah-wah, and playful sixties groove. Atmospheric, tinkling keyboards, spectral backing vocals, and elegant grand piano even augment the album's folkiest track, "House of Flames." The rough-hewn, enchanting end result sounds like Appalachian bluegrass music played by ghosts.
Dunn's George Martin-meets-Nigel Godrich production work reaches its zenith on "2 Know You is 2 Love You," an honest-to-God pop symphony replete with pillowy Beach Boys harmonies, chiming bells, marimbas, and gently-plucked, angelically sighing strings. And at several points Mad Lives is almost as beholden to Dunn's boardwork and violinist Eyvind Kang's orchestral arrangements as it is to the band and its songs.
Mad Lives | The Boat That Never Touches Water | Official Album Teaser #2 [HD] from The Maldives on Vimeo.
Slight emphasis on almost. The building, nocturnal strings and regal French horn on "The Boat that Never Touches Water" would mean nothing if Dodson's voice wasn't at the forefront, reaching for falsetto notes with tremulous beauty. And the psychedelic bluegrass of "Reckoning" stands on the figurative shoulders of Hudson's heartbeat percussion and Kevin Barrans' richly organic banjo.
Most importantly, the songs at the foundation of Mad Lives are uniformly strong enough to stand on their own. The album's closing track,"Blind (Wish You Well)," unequivocally confirms that assertion. It's little more than Dodson singing over a quietly restless, flamenco-informed guitar, forming a dark coda to the album's recurring preoccupations with light and darkness, sight and (metaphoric and literal) blindness. It's also Dodson's finest recorded moment as a singer to date, his voice moving from mournful moans to high notes to bitter crooning with quietly-absorbing suspense, nuance and drama. It'd likely be the kiss of death for most bands to close out a record with their most eerie, haunted, and misanthropic song. The Maldives possess the courage to go there, full-on.
That bravery extends throughout the entirety of Mad Lives, a record that's alternately intimate and grandiose, elegiac and heart-swellingly romantic, carefully-crafted and nakedly emotional. If that doesn't describe a classic right out of the gate, damned if I know what does.
Mad Lives officially drops on March 31, and the band plays their record release party one night later, April 1, at the Triple Door.