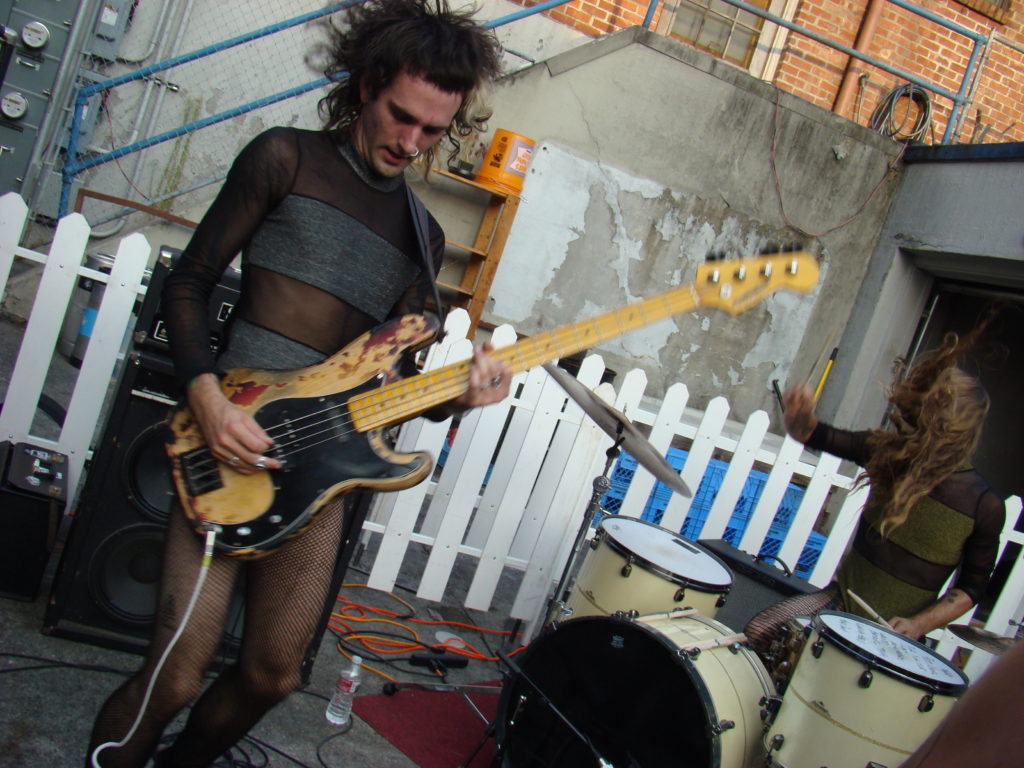 Let's just get right to it. The below releases merit your attention. Stop, look, and most crucially, listen.
Terabyte, ¥€$ (Qentaro Records): Terra Marotz—AKA producer/writer/singer Terabyte—boasts some deep PNW connections. She called Seattle home for several years, running with this town's goth and EDM scene. She also enlisted Portland boardman Adam Straney to master her latest EP. All of those are great reasons to cut Marotz/Terabyte some slack for currently calling California home. It helps that ¥€$ is one sharp-assed dance record.
"Cold Shoulder" busts out a cosmopolitan space-age electro-groove as relentlessly upbeat as a cheerleading squad after a case of Red Bull, and the skittering "Wreck U" is equally ingratiating, if a bit more taut.
The EP's two highlights dwell between those bookends. The midtempo vibe of "Nobody Else" shifts from a spare, alien-soulful backbeat to a robo-reggae shuffle. And "Hackaboy" bolsters its retro synth sounds and imaginative harmonies with soaring cartoon crescendoes. Fans of Little Dragon's continental brand of exotic electronica will find a ton to love here.
The Dip, The Dip Delivers! (self-released): Tom Eddy, Jarred Katz, and Mark Hunter form the nucleus of Seattle electro-pop band Beat Connection. They're also the core of The Dip, an ensemble soul act that takes a deep dive into old-school rhythm and blues. And damned if their debut full-length doesn't burn the house down.
The Dip Delivers swings with an abandon that lets everyone in on the party. Katz's drums and Hunter's bass work provide a sturdy, organic but in-the-pocket groove. It's an ideal framework for Eddy's singing and guitar, and The Dip's horn section provides earthy warmth to match their sonic forcefulness. The sound channels early Marvin Gaye ("Sure Don't Miss You"), doo-wop ("Adeline"), Stax/Volt ("Advertising," replete with cooking guest turns by keyboardist Delvon LaMarr and True Loves guitarist Jimmy James), and more, without coming off like an audio museum piece.
The record's pivot point turns out to be Eddy's voice. The singer's always been a great, clarion vocalist, but he's never, ever sounded this soulful. Fighting back the chills elicited by Eddy's soaring, haunted turn on "Slow Sipper" is a damned fool's game.
Dirty Dirty, "Emotional Whatever Things" single (Den Tapes): Hard rock seldom gets as precise and punk-rock spastic, all at once, as Seattle duo Dirty Dirty. Lead singer/bassist/founder Ian Forester's voice roves between gothic crooning and unhinged screams. And his heavy but versatile bass finds an ideal foil in drummer Drew Shreve, whose rhythms thunder like a neanderthal pummeling out free jazz licks. It's a wall of hooks and noise that fights categorizing to a great extent. Whatever the hell it is, it rocks.
The band's sound is well-served on this recent Den Tapes release. "Emotional Whatever Things" is a blast of ripsaw anger that careens through its minute and 52 seconds like a school bus plummeting down a ravine. "The Ladder" hurtles post-punk mud and shrapnel at a re-recording of one of the band's early tracks, and Forester's operatic vocals turn their cover of PJ Harvey's "Oh My Lover" into an epic gutter-metal anthem. The band's full-length debut is reportedly around the bend, and if it's anywhere near this exhilarating, it'll be one hell of a ride.
Blue Glass, Pale Mirror (self-released): Old-school British new wave and post-punk bands have logged enough time in the pop culture firmament for their sounds to become canonic to modern musicians. That means it's possible to give Pale Mirror, the second long-player from Seattle band Blue Glass, a break, even as it strongly echoes the melancholy chime of vintage '80's bands. The fact that it's compulsively catchy, and even flat-out ravishing in places, doesn't hurt either.
The brainchild of Michael Shunk of Transient Songs, Blue Glass favor crystalline, Thatcher-era British guitar pop over Transient Songs' warm-and-fuzzy psychedelia. The ingredients exude cozy familiarity, what with Shunk's charismatic vocal drone, his pinging guitar runs, the whirring synths, and the clipped, taut rhythm section provided by Jordan Fuller's bass and Tim Bulkley's drums. Srains of several beloved bands (The Cure, Joy Division, and The Human League among them) inform a lot of the record.
But as is the case with all pop music, it's not just about hauling out the same eight or nine chords. it's what you do with those chords that counts, and Blue Glass runs nine for nine here, with layers of atmosphere that garnish things wonderfully. I'm especially fond of the shimmering Cure-tinged six-strings that weave around the nimble pulse of "Sleep," and the skittering beauty of a melody that emerges from the warbling, skewed synths during the intro of "Don't Think Twice," the album's opening track.
Pale Mirror will invariably kick up the feels for anyone old enough to remember the '80's, but it also feels surprisingly timeless. Flashes of lushness and romance pierce Blue Glass's melancholy the same way clusters of greenery often offset the downcast grays that envelop a Northwest skyline this time of year. That's as timeless—and quintessentially Seattle—as it gets.
[Pale Mirror officially drops April 22.]