Between her work as lead singer/bass player/percussionist for PNW electro-pop duo The Spider Ferns and as the founder of creative PR firm LoFlux Media, Kelly Fleek's a well-respected member of the local music scene. And like so many contributors to this region's musical ecosystem, she's taken several unwelcome hits thanks to the financial and emotional ravages wrought by the global pandemic.
Fortunately, she's persevered amidst the long shadow of COVID and found creative catharsis as a visual artist. Cocoon: small transformations collects eight of her sculptural textile works in one exhibit, all on display at Moss Art Space in Seattle's Central District through February 27.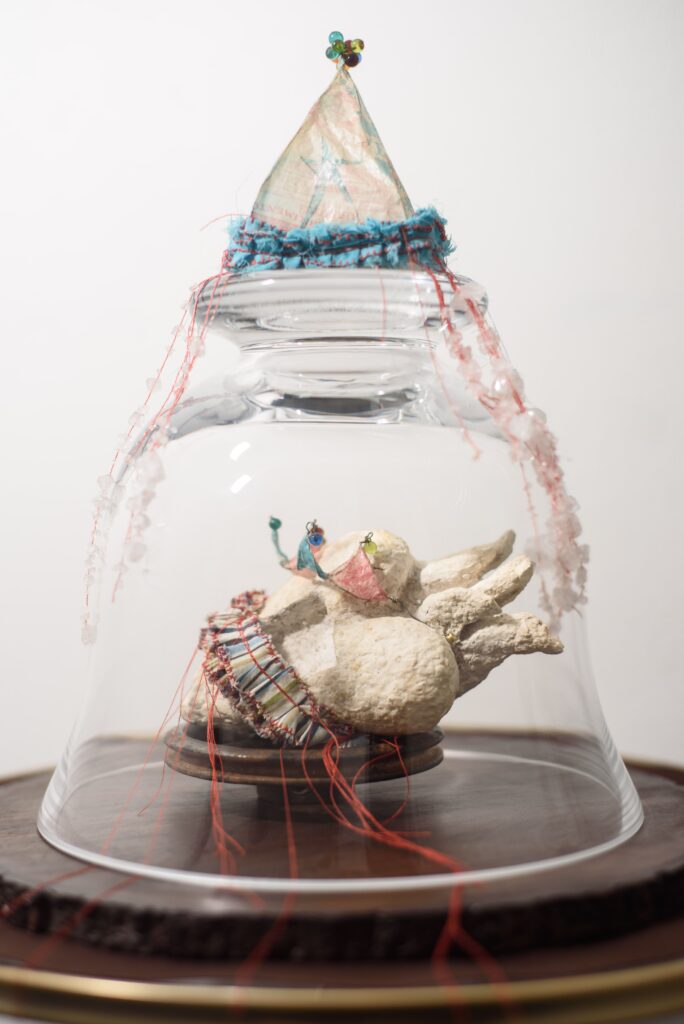 "We used to party," one of the pieces on display in Kelly Fleek's art show, Cocoon: Small Transformations. (photo by Brady Harvey)
Kelly is bracingly direct as she talks by phone about the impact COVID's had on her music and her PR business. "I've had a broken heart about music," Fleek admits. "Touring and performing are so inextricably linked for us. [The Spider Ferns] got trapped in the Moab Desert for five days, on the way to play South by Southwest in March, trying to figure out what to do next. Our shows were cancelled right and left while the whole world went crazy."
She and her husband, Alton Fleek (the other half of The Spider Ferns duo lineup), returned to their home in the Skagit Valley foothills in the wake of all of those travails, crestfallen. The creative triumph represented by the release of the band's latest single, "Who Stands Alone," in March 2020, and the song's subsequent premiere on KEXP, were offset by the pandemic's impact. Kelly was also still reeling from the death of her mother last year, and the passing of her grandmother not long before. "It honestly took me awhile to get hit by the COVID blues, because I'd already spent the last year sort of isolated and dealing with the care of my mom."
Kelly found a way to channel her emotions about the passing of her elders, and the state of the world, into visual art. "I think we've all felt cocooned, and frozen in time, because of COVID," she says. "The inertia for all of us is spiritually sculptural."
An accomplished textile and installation artist whose work has been featured with the Lusio Lights Festival, the Whatcom Art Museum, and New York's Kollabora magazine, among many others, she created the pieces that comprise Cocoon: small transformations in a three-month burst of creativity. "It's wonderful that so many musicians are addressing COVID in their music," she says, "but that wasn't where my headspace was."
The pieces are immensely detailed, and rife with handcrafted beauty. The knitting and crochet work that forms the foundation of most of the pieces gives them a textural, organic warmth, augmented by the use of natural objects like giant barnacles and animal bones. The pieces are are also literally embedded with the personal: Kelly's mother and grandmother were both accomplished in stitching, crocheting, and/or tatting, and various yarns and fabrics from both of her elders' sewing supplies are interwoven into the sculptures. "It sounds corny to say it, but I talked to my mom and Nana a lot while I made these," she says.
Many of the pieces boast appendages and shapes not dissimilar to jellyfish tendrils, mushrooms, and branches. Those textures, and the repurposing of manmade items like antique sewing machine pulleys and bell jars, add a tinge of the alien to the work's handcrafted loveliness. "There's definitely a little bit of a sci-fi bent to these pieces," Kelly remarks. "I joked with Alton that some of them look like they belong in the movie Avatar."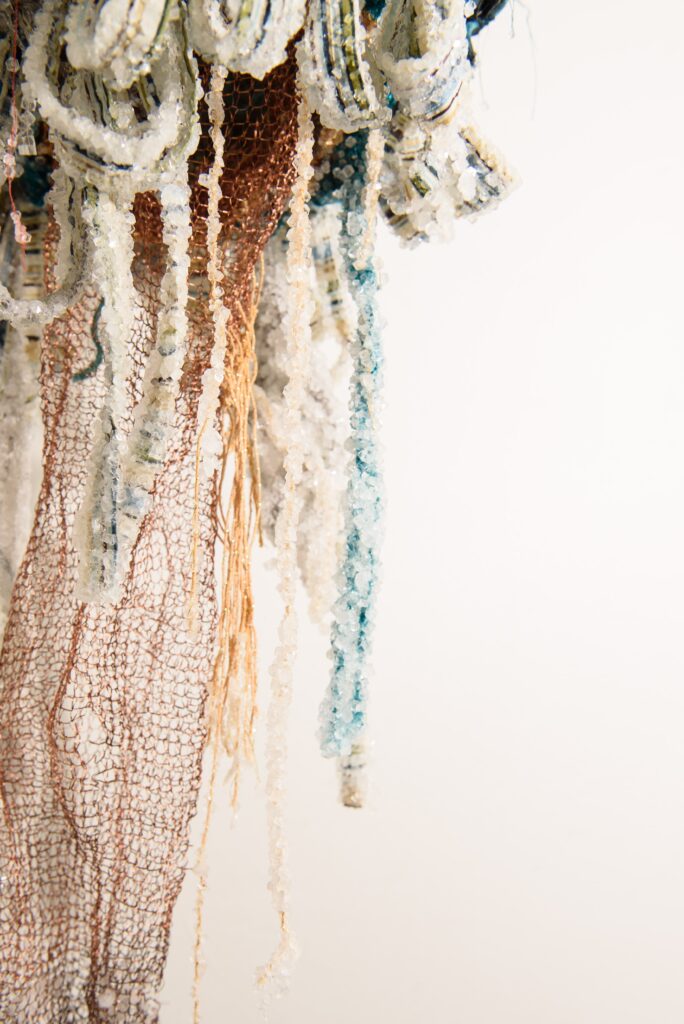 Detail of "Lightning Sprite," one of the textile sculptures in Kelly Fleek's gallery show, Cocoon: small transformations. (photo by Brady Harvey)
This particular run of artwork also embraces the use of borax crystals, which filigree the tendrils and bases of the pieces. Kelly learned how to craft the crystals from Meghan Elizabeth Trainor, a close friend and Moss Art Space's Curator, last year. It didn't take long for Kelly to master the technique and incorporate it into her art. Trainor was so impressed that she encouraged the textile artist to craft several pieces for a gallery show.
In lieu of an in-person opening for Cocoon, Kelly offered a live Instagram Video Workshop on making the crystals. It was so well-received that she's doing a followup Virtual Closing/Crystal Workshop Thursday. "I love demystifying how my art is created," she says. She sees a wealth of symbolic significance to the inclusion of those crystals: "They represent the tears of losing my mom; the glitter of stage life; the dew on the ground in the morning. They also say, "I'm resilient. I may be crying, but look how pretty these tears are.""
Crafting Cocoon has also helped reignite Kelly's passion for music. She and Alton are writing new material, and putting finishing touches onto several completed songs. They're hoping to have a full-length album out sometime later in the year. "The Spider Ferns are still alive and well," she insists. Given how Kelly Fleek's weathered the last couple of years, that statement resolutely applies to her band–and to herself.
Cocoon: small transformations exhibits at Moss Art Space in Seattle's Central District until February 27. The space is carefully regulated to adhere to COVID guidelines, so in-person gallery tours are by appointment only and can be made here. Kelly Fleek's Instagram page and her dedicated website contain a generous sampling of photos of her work, and her Virtual Closing/Crystal Making demonstration broadcasts live on Instagram at @mossartspace Thursday February 25 at 7:00PM PST.