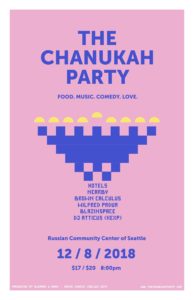 "To be honest, I haven't talked to a lot of people about this yet," says Blake Madden, co-host of the upcoming dinner party event, The Chanukah Party. "I found out the news about the synagogue shooting in Pittsburgh the day before I processed the order for 200 posters in Seattle with a menorah on them." 
The Chanukah Party, which is a joint effort by Madden and co-host and friend Mike Wong, is slated for Dec. 8th. During the evening, attendees will enjoy Jewish and Chinese fare, stand-up comedy and live music. But it is also a night during which the hosts hope their guests will feel both welcome and welcoming. A tagline for the night is, "Nobody leaves till all the bread gets broken, dig?"
Madden, who met Wong seven years ago through some mutual friends, had at the time already begun throwing his own monthly dinner parties. And after attending one, Wong, a skilled cook in his own right, liked the idea and came on board. "We became a team," explains Madden. "And now we've been doing dinner parties together for six years."
 With the parties, the aim is to achieve something greater than just the sum of the parts. The idea is to create a space where people can communicate personal things – hopes, fears, struggles – in an open environment where attendees can lower their day-to-day defenses. And with this year's Chanukah party (the second annual), the mission is both to bring people together over food and fun and normalize the idea of Jewish traditions in a time when they may feel increasingly threatened.
"I realize there aren't a ton of Jews in Seattle," says Madden. "But if you say to your friends that you're going to your office Christmas party this weekend, they're going to say, 'Oh, cool, you gonna have a few drinks and relax?' But if you say you're going to your office Chanukah party, they're probably going to say, 'Oh, do you have to wear a hat or something?'"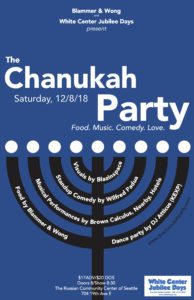 And while Madden has a bent for humor, he also realizes the underlying realities of throwing a Chanukah party – even one that is "open to anyone and not particularly religious" – can be scary, especially in the shadow of the tragedy in Pittsburgh.
 "It's definitely on my mind and it's definitely stuff I haven't had to think about before," Madden offers. "Now I'm kind of thinking about it. Am I a target? Is it weird to think I'm a target? Is it not weird? But I'll tell you something: it's good not to be on the sidelines. A lot of horrible things are happening to people right now for no good reason. So, we're trying to make a place where people can feel safe and relaxed for one night, myself included."
On the docket for the evening is "a bunch of food," which will include potato latkes and vegan matzo ball soup as well as Chinese pulled pork and fried rice. In addition, Wong's sister, Katie, is flying in from New York City with fresh bagels. The night's entertainment will open with standup comedy from Wilfred Padua and follow with three bands – Brown Calculus, Nearby, and Hotels. And it will conclude with KEXP's DJ Atticus spinning records for a dance party. A portion of the proceeds raised during the night will go to local nonprofits.
"What I want to happen," says Madden, "is just for people to fall in love for an evening. I'm Jewish by birth but I'm a humanist by choice. I don't know if this event is an act of rebellion in this climate, but if so, we'll take it. And if it's scarier now to do it, well, that's even more reason to do it."
To buy tickets and find out more information, click here.