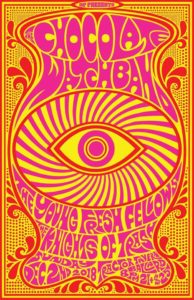 Three days ago, I received sonic deliverance from the autumn's cold snap, and from the mundane necessity of my day job. It came through my earbuds while I was en route to work, in the form of a 3.5-minute adrenaline burst delivered—remarkably—by the latest iteration of a rock band formed before I was born.
The song that blew the proverbial top of my head off that morning was "Secret Rendezvous," the opening track of This is My Voice, the forthcoming album from psych-rock legends The Chocolate Watchband. It's an exhilarating monster of a cut, equipped with a hook that doesn't quit, snarling fuzztone guitar notes, a stomping backbeat, and lead singer David Aguilar's ragged, swaggering growl of a voice.
The seeds of that potent combination were sown circa 1965. Formed in Los Altos, California, The Chocolate Watchband were one of many young American bands liberated by The British Invasion in general, and by the repurposed blues of The Rolling Stones in particular. Their raw sound combined those influences with the lysergic headiness of the burgeoning psychedelic rock movement, generating some of the garage rock era's most sublime tracks—"Sweet Young Thing," "Are You Gonna Be There (at the Love-In)," and "Don't Need Your Lovin'," among them.
The band folded around 1970, after a history fraught with dizzying lineup changes and dodgy treatment from record labels and producers: Unbeknownst to the band, producer Ed Cobb recorded over half of the CWB's 1969 record The Inner Mystique with session musicians while the proper band toiled away on tour (feel free to check out the CWB's Wikipedia page for a Cliffs Notes summary that'll likely make your head spin).
But the Chocolate Watchband rose once more in the late '90s, and the latest incarnation of the band lands at Seattle's Tractor Tavern Sunday, December 2. Guitarist Tim Abbott and drummer Gary Andrijasevich join fellow long-timer Aguilar, and their attack is bolstered immeasurably by second guitarist Derek See (a longtime vet of California's neo-psychedelic scene), and bassist Alec Palao, a musician, Grammy-nominated music archivist and liner-notes author who was instrumental in getting the band's original recordings issued on indie label Big Beat Records.
This is My Voice isn't so much a comeback as it is a continuation; the sound of one of the psych-rock era's most dynamic outfits rolling its sleeves up, stirring its creative juices, and getting down to business.
The original cuts bristle with immediacy: The harrowing, brilliant "Judgment Day" is an apocalyptic blues song, sung from the point of view of an unemployed blue-collar worker. The record's title track twists swirling neo-psychedelia around a scathing indictment of Trump-era Americana. And Aguilar's harpsichord melody gives the bad-trip eeriness of "Bed" an aura that's equal parts austerity and decay. The band fleshes out the record with passionate covers by contemporaries like Bob Dylan, The Seeds, and Frank Zappa.
I chatted at length with the band via email about the past, present, and future of The Chocolate Watchband, and the synergy that's been fueling their current lineup. It's not every day you get that legit underground rock legends spill their guts in-depth, so be ready for a deep dive down the psychedelic rock rabbit hole, man.
This is the first Chocolate Watchband record to get an above-ground release in a long time. You've been touring and playing live shows in this configuration for awhile to enthusiastic crowds, so it begs the question: Why a new CWB record, and why now?
Tim Abbott (guitar): Two [reasons] really. We are still creating new music; and we enjoy playing the old songs, but look forward to developing new material that we hope will resonate with people as well.
David Aguilar (vocals, keyboards, harmonica): It is a vehicle for my new music. It's fun to work with a group of very talented musicians, and why not now? How long are you going to be dead?
Alec Palao (bass): This is by and large David's baby. He is the chief songwriter and he has always guided the Watchband. When he has inspiration it's infectious. We are more than happy to come together to facilitate things. David always brings material to us that is brimming with ideas, and invariably he has a pretty good concept of how he wants things to sound. For my side, I always try to keep my part in the vanguard of classic Watchband.
David and Tim, could you tell me a bit about each of you got your starts as musicians? When did you start playing, and what other bands had you logged time in with prior to The Chocolate Watchband?
David: Folk music got me started as a singer in high school. I was also listening to Muddy Waters, Bo Diddley, Chuck Berry, and Ray Charles, so my background in music was a bit mixed. At first, I didn't care much for the Stones, but they grew on me. After a few listens, it hit me—it was black blues music repackaged with more energy! The two bands that influenced me the most were the Yardbirds and the Kinks.
Tim: I started playing guitar when I was 8 but really didn't get serious until I was about 11. At that time, I met a guitar player that I would later play with. We did a lot of blues, and of course the current rock, Chuck Berry, and a lot of the instrumentals that were going on at that time.
I had my first band when I was 12 called the Shadows and then in high school I was in the group called the Sun Downers. later I form the group called the Good News, with members that would later become Kingfish with Bob Weir. Right before I joined Chocolate Watchband in '67, we had a group called the San Francisco Bay Blues Band.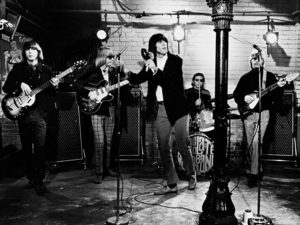 The CWB first became active in a really heady and formative time in rock music, and in world culture in general.  What were things like at the time? 
Tim: During the summer of love in 67 we weren't really thinking about much else besides music and playing. But things were changing and we could sense a whole new direction in culture.
David: Rock music was the Facebook of the baby boomers. It was how we communicated, stayed abreast of changes in society, and maintained a sense of being. It was political, drug addled, wide but focused. The variety, creativity, and differences were great, yet they all spoke the same language to the boomer generation. We were all in this together.
Meanwhile, our high school friends were coming home in body bags, blacks were being beaten in the streets, and our president and influential leaders were being assassinated. Music was our conduit to processing and understanding these future shock type changes.
Did the two of you continue to play and perform music after you left the Watchband in the late '60s? 
Tim: I did. I continue to play, and have been in one band or another most of my life except for one year, when I worked as a soloist. A lot of what I do now is session work in my recording studio. Part of what is helped me to be able to adapt and change and go with the flow of the music is all the session work I've done over the years.
David: When the Watchband imploded, I was angry—upset and disillusioned with the whole scene. Musically, I went into hibernation for the next 35 years, listening to music, enjoying other people's music and pursuing a career in astronomy and the natural sciences. I became an educator/astronomer. However, music was still part me and it was reborn in the late 90's after an amicable divorce.
There's an enormous amount of topicality to This is My Voice: It feels extremely fresh and born from the headlines.
David: I am very passionate about politics and the future of the human race. We are teetering on a precipice most people, in their daily routines of wasting time on Facebook, and tweeting inane garbage, are unaware of. So yes, I am very tuned into what's happening, very opinionated, but base my opinions on data-driven facts and science. I am not trying to re-invent the past, or make songs sound like they popped out of the 60's, although songs like "Trouble Everyday" [a Frank Zappa song covered on the record—Ed.] are just as relevant today as they were 40 years ago.
Tim: one of the things that I hope that we do is entertain, but more than that we feel that this is an opportunity to bring awareness to our future, and what we're leaving behind.
One of the strongest originals on the new record is "Judgment Day." It's a really powerful blues song.
David: "Judgement Day" really began with an acoustic riff on an old Epiphone guitar I picked in a junk shop in Rhode Island for $25.00. I loved the sound of it and was just plunking along when the song really wrote itself.
For the lyrics, I just envisioned myself as a hard-working blue collar stand-up guy who had just lost his job for no reason of his own. The bills; the embarrassment of telling his wife; the new unknown. Everything that was meaningful to him was gone and nobody in Washington cared.
There are a lot of interesting guitar dynamics on the new album. How did/do those parts evolve?
Derek See (guitar): Typically, David has a guitar part in mind, and he records it himself. Tim and I have a lot of freedom to do our thing. My role is basically that of someone who adds the trippier elements; lots of tremolo guitar, fuzz, and texture. Tim and I both share '60's British blues influences, and we do some intense dual lead stuff that's directly rooted to the brief period when Jeff Beck and Jimmy Page played dual lead guitar in the Yardbirds.
How do you feel about playing gigs in the Northwest? Any connections, musical, familial, or friend-wise, in this part of the country?
Tim: We have found more success in Europe than America in the last few years, but the Northwest seems to be another place that's really understands and appreciates what we're doing musically.
Alec: I am exceptionally familiar with the Sonics and Wailers. Like the Watchband, I have grilled them like tuna melts on their glory years, reissued their vintage recordings on Big Beat, and in the case of the Wailers, remained very good friends with the late Buck Ormsby, who really was the guy who flew the flag for Northwest rock before Nirvana sort of put it on the map. And l love playing up there, even if it always seem to be a bit soggy.
David: The Pacific Northwest is a hold-out in the American music scene. It feels very much like Europe in that sense. My brother lives in Seattle and I'm hoping he will join us on stage for "(It's All Over Now) Baby Blue." He was always the more talented musician in the family.
With these smaller more intimate venues, it is a chance for us to truly enjoy the music ourselves. There's no staging to worry about; no set time clock or even how we play the songs. It is intimate and personal and fun. It's what music is all about.
[Tickets for The Chocolate Watchband's Tractor Tavern show on Sunday December 2 are selling fast, but you can buy 'em here. Dirty Water Records drops This is My Voice in February 2019.]