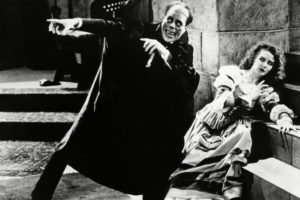 The Seattle International Film Festival kicked off its 2019 incarnation last night, and for the next three weeks the festival will present literally hundreds of films, from myriad nations, of all genres and stripes.
To help guide you through the wealth of great music-themed films unspooling between now and June 10, enclosed herein is a list of the best and most promising of SIFF 2019's music-related films.
Who Let the Dogs Out?
Everything that you wanted to know about that relentless hit made famous by The Baja Men, but were afraid to ask, is covered herein.
Friday May 17, SIFF Cinema Uptown, 9:15 pm
Sunday May 19, AMC Pacific Place, 3:30 pm
Saturday May 25, Shoreline Community College, 8:30 pm
Phantom of the Opera with score by The Invincible Czars
This 1925 silent classic hits the SIFF Cinema Egyptian Theater's gloriously huge screen, with a soundtrack by Austin dark-cabaret post-punks The Invincible Czars. The Czars' live SIFF presentations of the 1920 Dr. Jekyll and Mr. Hyde and Nosferatu were transcendental, so there's no reason this shouldn't follow suit.
Saturday May 18, Egyptian, 2:00 pm
Farinelli
Gérard Corbiau's lush period drama about famed castrato opera singer Carlo "Farinelli" Broschi and his composer brother Riccardo was nominated for a Best Foreign Language Film Oscar. It's an historically suspect but incredibly entertaining biopic.
Monday May 20, SIFF Cinema Egyptian 7:00 pm
Saturday May 25, Lincoln Square 3:15 pm
Shut Up and Play the Piano
Canadian musician Chilly Gonzales is one fascinating figure—a guy who can throw down rap opposite Peaches one minute, then craft complex avant-classical piano music the next. Philipp Jedicke's doc offers a window into what makes this guy tick, as well as ample performance footage.
Monday May 20, AMC Pacific Place 9:30 pm
Tuesday May 28, SIFF Cinema Uptown, 4:00 pm
The Apollo
Harlem's historic Apollo Theatre has been a showcase, and flashpoint, for some of America's most important musical icons since 1934. Roger Ross Williams' expansive doc follows the theater's history from its early days, through to modern efforts by the Apollo's governing board to keep the theater at the vanguard of the African-American creative experience.
Saturday May 25,  SIFF Cinema Egyptian, 6:45 pm
Sunday May 26, SIFF Cinema Egyptian, 1:30 pm
Monday May 27, Shoreline Community College 3:30 pm
Patrinell: The Total Experience
Singer Patrinell Wright possesses world-class pipes on par with Aretha Franklin, but Wright opted to pursued a life of faith as a pastor, embodied by her work as the founder of Seattle's internationally-renowned Total Experience Gospel Choir. Her journey as a singer, woman of faith, and activist is given the spotlight in this doc.
Sunday May 26, SIFF Cinema Egyptian 4:00 pm
Monday May 27, SIFF Cinema Uptown 3:00 pm
Miles Davis: Birth of the Cool
A documentary about one of the most important, innovative, and volatile musicians of the twentieth century, packed with his music? No-brainer.
Wednesday May 29,  SIFF Cinema Egyptian 6:30 pm
Friday May 31, SIFF Cinema Uptown 4:00 pm
DJ NicFit presents Fantastic Planet
Rene Laloux's 1973 animated sci-fi adventure is a magical experience in and of itself. Add in a soundtrack comprised of music by The Flaming Lips, curated by PNW mixmaster DJ NicFit, and you have what will likely be a transcendental experience.
Thursday May 30, SIFF Cinema Egyptian 7:00 pm
Legend of the Stardust Brothers
One of the most daft of SIFF 2019's music-film offerings will be this musical, a 1985 mockumentary about a manufactured pop duo that crams animation, insidious pop numbers, wrestlers, zombies, and gaudy colors into one bright, fizzy, weird cocktail. It's a movie genetically engineered to mess with heads—in other words, choice midnight-movie viewing.
Friday May 31, SIFF Cinema Egyptian, 11:59 pm
Sunday June 2, SIFF Cinema Egyptian, 9:00 pm
Thursday June 6, SIFF Cinema Uptown, 9:30 pm