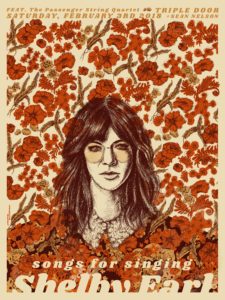 One of the most indelible images of your average live rock show is a club filled with people – some with long hair, some shirtless – holding plastic cups filled with beer, rocking. It's a raucous, romping scene where you can imagine smokers on the sidewalks and whiskey shots until closing.
But there are other ways to enjoy rock music, right? What if you could hear one of the Emerald City's great songwriters sing while accompanied on grand piano in an elegant room where you can get a half carafe of wine, dumplings, and sit and enjoy the show as a string quartet accentuated everything? You can–that is, if you manage to get tickets.
On Saturday February 3 at the Triple Door, Seattle singer/songwriter Shelby Earl, accompanied by pianist Billy Brush and backed by composer Andrew Joslyn and his Passenger String Quartet, will perform a selection of her songs from her array of albums. Opening the show will be local legend Sean Nelson. "I'll be wearing a long dress," laughs Earl. "I want to reinvent myself more often. I'm an independent musician and I get to make the rules for myself. Why wouldn't I do this?" To get a sense of how the show came together – which is, really, a study of Earl's relationships with all the participants – we asked for all the details.
You said Damien Jurado came up with the idea for this special night? What is your relationship like with him and how did the suggestion come up?
That guy's imagination is wide open. In the studio, he's not a typical engineer. He's not sitting behind the board twisting knobs. He's sitting there reimaging things. Anyone who knows Damien's music knows he's in the stratosphere. He exists in some other realm. That's what happened when we made a record together. He helped me reimagine some of my songs.
And this show came together in a similar way. We got together for breakfast one morning and he said something cool. He was like, and I'm paraphrasing, "When I listen to your songs – of all the songwriters I know – from the minute they start, it feels whole to me. I know what it is. It's a song. So, can you just play a show sometime that's just piano, your songs and your voice? To let the songs stand alone." I love playing with my band, of course, but it sounded like a cool challenge, and a little risky, to see if the songs could stand on their own. I'm excited to try it out!
You'll be backed by Andrew Joslyn and his Passenger String Quartet. What's your working relationship like with the composer?
I can't even remember how we met – maybe through some recording project – but since then, we've done so many things together. It's funny – when I called him about this, he went through his files and said, "Oh, I already have strings for that song and that song." He has all these files! It's amazing. I don't ever forget that he's such a baddass but he's so humble and approachable and easy going at the same time.
You forget how much this dude has done. He's a force of nature. He knows how to distill music and grab the important stuff. And I'll tell you an anecdote about Andrew. The drummer in my band, Michael, used to be in a band with Andrew years ago. And they'd be on tour together and after the gig everyone would go to the bar but Andrew would go back to the hotel and take online courses. He's gotten, like, multiple extra degrees and certifications while on tour. He's unreal.
How did Sean Nelson come into the fold for Saturday?
Over the years, I've worked with all these mutual pals of Sean's. I've known him around the way for years now. But we haven't really done anything together until KEXP did this Reykjavik event – they have this Icelandic Seattle musician exchange show and we were both involved.
Then, fast-forward to this residency I did in Portland. I asked him to come down and sit in. It was the first time we got to hang and talk. He performed solo on piano and I was blown away. I've obviously known Harvey Danger's music forever and Sean is this larger than life person in Seattle. He's a sweetheart of a dude and his musical voice is one of a kind. When Saturday's gig came up, I thought, "It's got to be Sean Nelson!" He's a fascinating storyteller in this outrageously universally large way his brain works.
As you've reworked your songs for the show, has your relationship to any of them changed?
Some songs have certainly come off the list. And we've added a couple that I didn't know could work in this format. It's been a bit of a long road figuring out a set list. We started with a lot of songs and they've been slowly coming off one by one. I've been interested to see which ones stand up in a more stripped-down setting – though, granted, strings do add a lot.
Ever since I started performing solo, I've worked to shed this feeling that if things weren't complex, then that meant they weren't good. That feeling always held me up. I used to be in this band before where I was, quote, "Just the singer." And I tried bringing a song in from those days to this show because it had such beautiful string arrangements but when I went to sing it, I just sounded like a dying animal. The vocal and body memory around that time and that project – I just had to scrap it. It was bizarre. But with other songs – and I don't mean this to sound self-congratulatory – but I can't believe I wrote some of them. I go, "Did I make this song? That's crazy!"
Would you ever consider doing something like this again, or even host one?
I've definitely thought about this idea having legs in some other way. We're approaching it as a one-time thing, though, which makes it more fun right now. On the other hand, there are people who can't make the show and they're asking if we're recording it or if we're going to release it. And it's made me think about the possibility of touring this way. Andrew has now orchestrated all these songs; now these parts exist in sheet music-form. You know, everyone who's in a similar realm as me, we're always looking for new ways to make a tour work. It's an ongoing challenge, but this is a format that could work well on tour because we could travel as a two-piece and just hire string players in each city.
But I also love the idea of this becoming a thing where other artists perform similarly at the Triple Door. Take the songs down to their studs! John Roderick once said to me, when I was wondering if one of my acoustic songs was too simple, he said, "You know somethin' no one will ever get tired of? Beautiful things." And I've always tried to remember that.