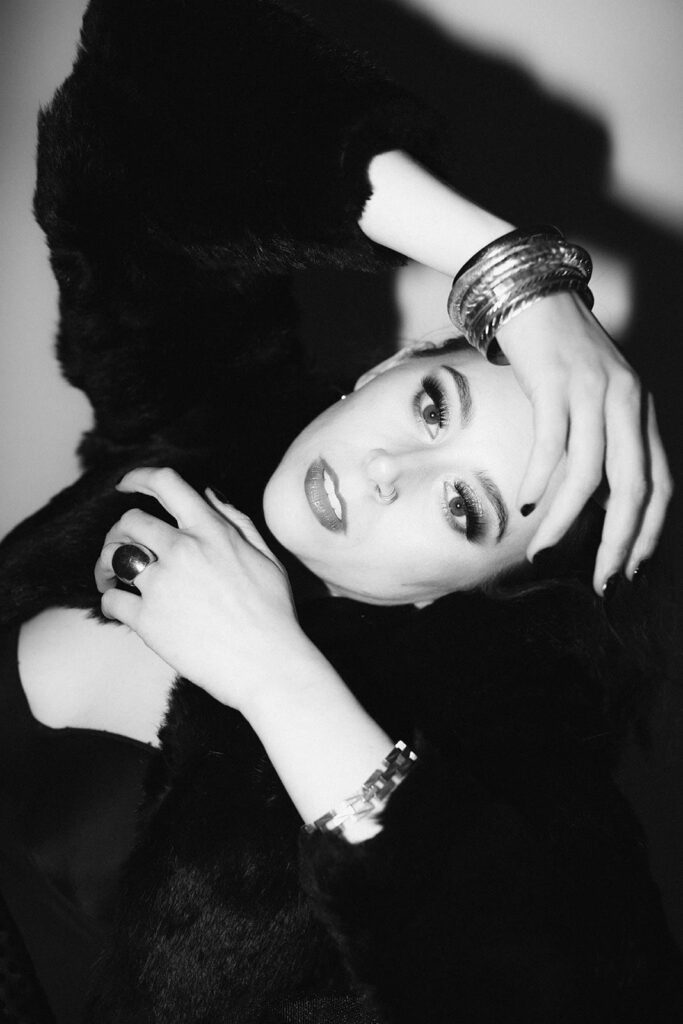 Singer/songwriter/musician Dimanche Doré has a million things on her mind as we chat during dinner at La Dive, the new wine bar on Capitol Hill where she works. "As a producer in this situation, I'm that creative nervous performer who's like, we're sounding good, we're all professionals, but are we really gonna pull this together?" she says.
There are a lot of moving parts for Doré to assemble with her newest project, Charlie Kind, which she'll unveil at Fred Wildlife Refuge on March 3. In addition to writing and singing the songs, she intends for Charlie Kind to be a genuine experience for audiences, as much performance art as pop music presentation. "I want people to feel like they're walking into something memorable and truly remarkable." The fact that Doré's managed to secure Fred for one of that venue's final hurrahs (it closes for good on March 8) holds extra meaning for her: "It'll be like a birth and a death," she notes, "and it'll be very bittersweet, for sure."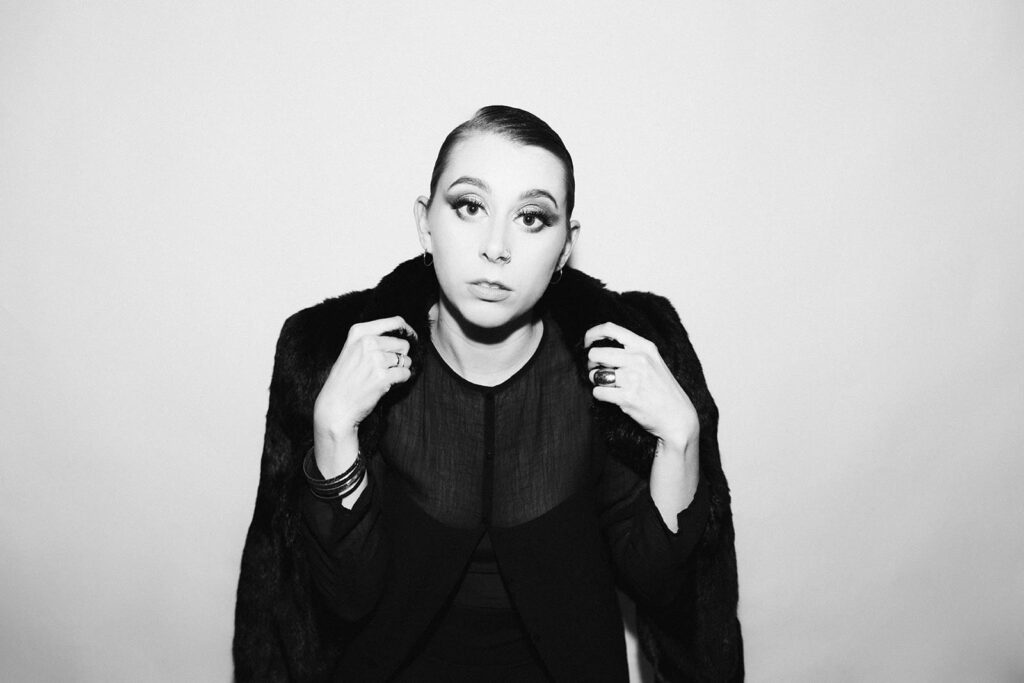 To that end, Doré's planned a full-on evening, requesting guests to dress formal if possible. Attendees will have a photo opportunity in front of a backdrop being painted by Bainbridge-based artist Jenny Lesser (KEXP photog Jim Bennett will be shooting the pics). Beginning at 7:00 PM, local chanteuse Shenandoah Davis will be tickling the ivories, or more appropriately the ebonies, for Cocktail Hour. "I've asked Shenandoah to only play minor keys, minor notes," Doré says.
That sensibility extends to the persona of Charlie Kind, who takes the stage at 8:00. Charlie, she says,"is the personification of the mood of being disappointed. If disappointment had a name, it would be Charlie Kind."
Doré likens the arc of her piece to presenting the birth, life, and death of disappointment. "The birth is your first disappointment; you're in the depths," she says, her eyes intensifying. "Life is essentially the management of that disappointment, of depression. Then the death of Charlie Kind is joyful, exciting, celebratory, when you find hope and can believe again. You're dead to one thing, but if you're dead to that, you're alive to something else, and you let go of what you're dead to."
Don't let that rather heavy description put you off. There are no formally released Charlie Kind recordings to date, but the four 38-second snippets of Charlie Kind songs she shared with me are as ravishing as they are dark. One is a piano-based instrumental, gently threaded with what sound like synthesized flute notes. The other three are fragments of mostly electronic tracks, with Doré's resonant voice at the center.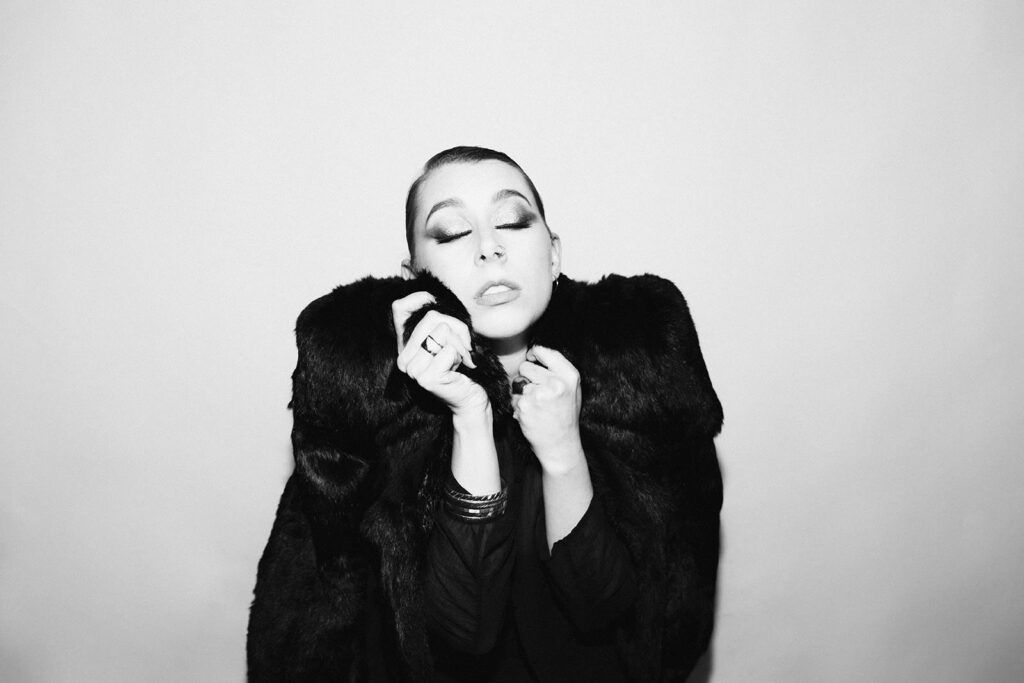 The fragments, all primarily composed by Doré, are catchy, elegantly melancholy, and sometimes even sensually danceable. It's like hearing an extraterrestrial just beginning to reckon with the myriad emotions kicked up by exposure to humanity. If Scarlett Johansson's displaced alien in Under the Skin recorded pop songs, they'd sound like this.
Doré/Kind has also surrounded herself with a sharp team of bandmates, including producer Dave Chapaitis of Crystal & Quiet (a longtime collaborator who's assisted Doré with arrangements), bassist and multi-instrumentalist Brandon Milner (a former bandmate of Doré's from the late, much missed roots-psych-pop band, Campfire OK), David Testa on drums, and singer Aura Ruddell, who plays piano and has assisted Doré and Chapaitis with keyboard arrangements on some of the songs. There's vivid theatricality to spare in the form of Dimanche's/Charlie's sleek sense of European cool, two dancers, and a multimedia projection show that'll make canny use of what Doré describes as her "moving, living journal" of home movies.
The resulting multimedia adventure is the culmination of a lifelong thirst for creative expression. A theater kid who belted out Broadway tunes in her bedroom as a kid, Doré (born Melodie Knight) moved from rural Colorado to Redding, CA at age 18, then from Redding to Seattle at age 20. Once there, she shaved her head, threw on a pink dress, and began performing solo acoustic at Local Color, a now-defunct coffee shop at Pike Place Market. She soon met Benjamin Doerr of St. Paul de Vence, who asked her to open for his band. From there, she began performing as part of Doerr's ensemble, then aligned with folk singer Tony Kevin Jr., before lending her distinctive voice and presence to Campfire OK. Somewhere in between, she also performed as a backing vocalist for Bryan John Appleby, Ivan and Alyosha, and even indie-folk icon Damien Jurado.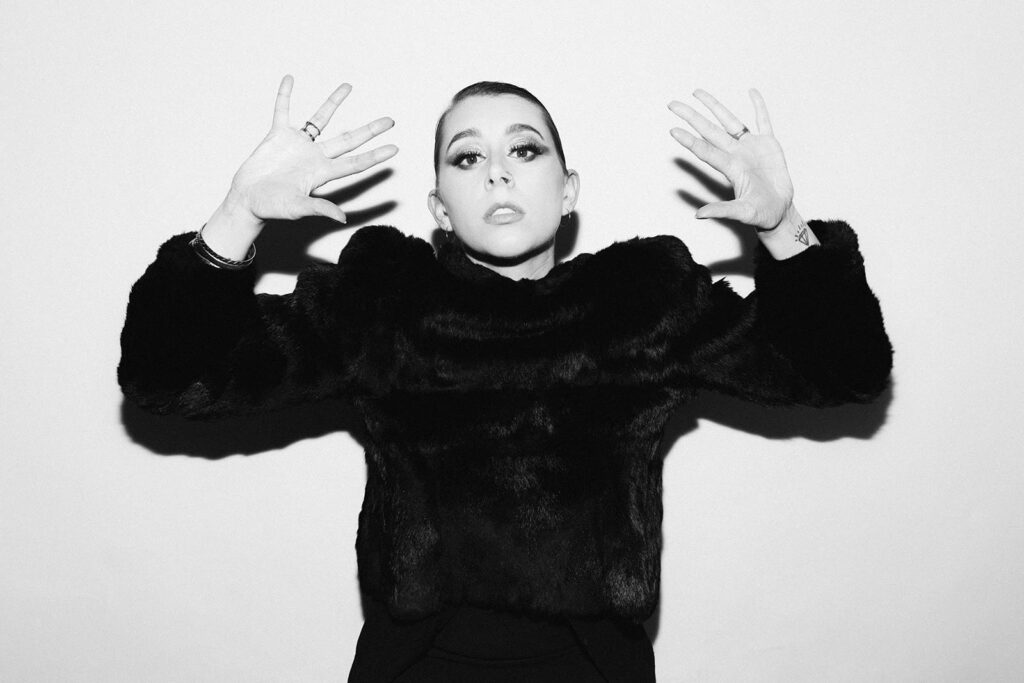 After parting ways with Campfire OK in 2012, Doré journeyed to Europe. "I had this ambition to live in my birth-father's chalet, in his backyard, in the south of France writing songs," she says, "but it wasn't nearly as fantastic as he made it out to be." Doré gravitated to Paris, where she lived for three years, then she spent a little under a year in Berlin. "Ultimately, moving to Europe kind of stunted me," she admits. "I didn't find myself with a group of musicians. I didn't find myself on that European label. I didn't find myself playing tons of shows. I just kind of hunkered in and went into survival mode."
The upside to Doré's European exile was a surge in her songwriting output. "I was able to save and buy audio equipment and make a lot of demos," she says. "I probably wrote about 30 songs in those four years." Those songs formed a significant piece of the Charlie Kind canon. From Berlin she found her way back to America, regrouping in Redding for a few months before laying her hat back down in Seattle about 3 years ago.
Seattle audiences can see (and hear) Dimanche Doré's transformation into Charlie Kind, and say one last farewell to Fred Wildlife Refuge, Tuesday March 3. Red carpet entry and Cocktail Hour begin at 7:00 PM; Charlie Kind hits the stage at 8:00 PM. Tickets are available here.