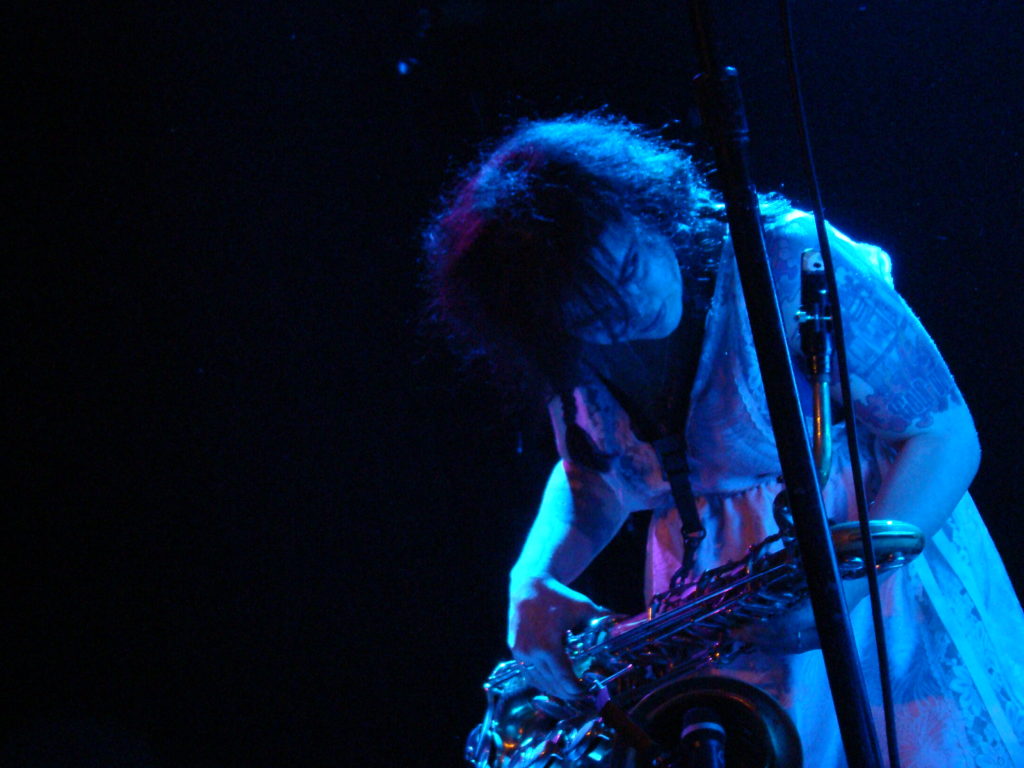 Buckle up, dear ones. We've got 11 tracks for your ears that will put 11 separate smiles on your face. Songs that will summon up 11 different thoughtful ideas and 11 new ways to see the world. In an age when playlists are made everyday, this one is worth your listening hour. And if you disagree? Well, then we'll refund your money! Enjoy and share with a friend. That is, of course, what music was made for.
Actionesse, "I Want Doubts"
In this age of "information," it's refreshing to hear a band shout in punk unison, "I want doubts!" Because, of course, it's through curiosity and the admission that we don't always know the answer that we learn. The track kicks off the band's 10-song 2019 release, The Deep, Bright Below, which is more than worth checking out if you want to learn more.
Payge Turner, "Underwater"
Turner opened The Black Tones' recent LP release with an acoustic guitar and her powerful singing voice. And she owned the room that first hour with her immense personality and charming wit. Not to mention songs (including a cover of "No Scrubs") that should have audiences following her burgeoning Emerald City career for years. Watch out for this sleepy-eyed dynamo.
Brett Benton, "Alligator"
Sometimes a song gets so stuck to you that it becomes part of your everyday routine. You listen to it about a dozen times a day between doing the dishes, cooking dinner, getting dressed and just getting hyped. "Alligator" has been that song for me this month. Benton is a master and his spider-like fingers walk the guitar neck like a long-time blues man, which is exactly what he is.
Chris King & The Gutterballs, "Mama Gaia"
With one of the most unique voices in the Puget Sound, King is part sword pierce, part-feather falling through a gust. His latest single, and the accompanying video, is but another example of the songwriter's talent. Filmed by Joel Myers, one of the city's most underrated videographers (because he's such a talented musician), "Mama Gaia" is a rollick.
Shawn Smith, "Purple Rain"
We aren't the first and won't be the last to express sadness at the recent passing of Seattle's Shawn Smith. While I didn't know the man personally and had only seen him sing a few times, this video of him performing "Purple Rain" is a beautiful piece of music and a testament to the man's ability, charm and capacity for eliciting emotion in his audiences. R.I.P. 
Erin Rae & The Heartbeets, "Ol' Dirty Dog"
Mouth trumpet. Let's start there. And then let's celebrate the joyful song, the K9 metaphors and the beautiful, swelling vocals at the 2:03-minute mark that makes this one a hit. Rae's Heartbeets have been playing for what feels like 10 months (we know it's longer than that) and they've already nabbed a spot at Capitol Hill Block Party this summer. Big things are in the works!
Chong the Nomad, "Two Colors"
Chong released one of the best songs of the year last year, her "Ghosts in the Shower," so you'd think that would be hard to follow. But what does the producer do? She drops another remarkable track, her latest single, "Two Colors." What separates Chong from so many other artists are her sounds. She seems relentless in crafting the proper tone, whether using her laptop or her own lilting voice.
AlAIA, "FANFAIR"
One of the co-founders of beloved Seattle rock 'n' roll band, Tres Leches, Alaia is a whirlwind of musicianship. In this song, she's lead singer, frolicking betwixt her talented band mates and climbing on top of a desk. Other days, she might pick up an electric guitar and mimic lightning. Her voice sparks. Her talent shines. 
The Whags, "To Me"
This song is like a walk down a bustling city street in summer. The smells of hotdog carts, the sounds of cars crawling down pavement, the clouds like puffs of cotton in the blue sky. While The Whags are a new band to many, they won't be for long. Audiences will long for them like a cool breeze in July.
Point of Arches, "Caesar's Last Breath"
There are some singing voices in the world that grip you with their first enunciation. That's what happened the first time I heard Matt Burke's voice on the latest record from Point of Arches. His tone, range and attitude are qualities I'd like to hear more. His voice reminds me of another local great, Galen Disston of Pickwick. And that's a really, really good thing.
Johnny Lee Ledford, "Burn This City"
One of Everett, Washington's most prolific music men, Johnny Lee Ledford is also the founder of Soniphone Records and an important supporter of the town's Fisherman's Village Music Festival. And on this track, he sounds like David Bowie. It's an incredible achievement from someone who achieves so much so often.