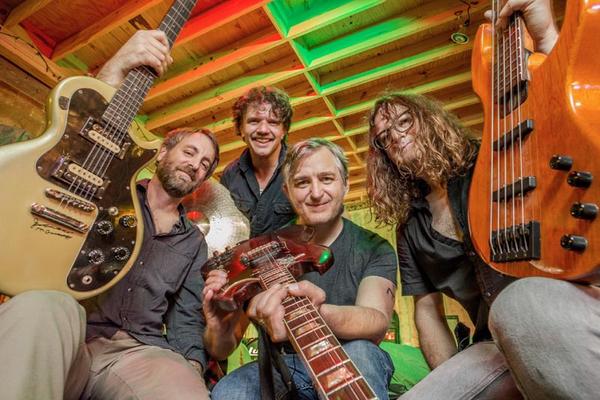 Goodness gracious are you in for it, dear reader. Prepare your day for 11 songs that will change the way your soul thinks about the world. In these following internet words, you will learn about music from rock to deathsparkle (more later). I believe so much in these songs, I won't waste your time dancing around their introduction. Put your headphones in, turn up the speakers, and grin.
Chava Mirel, "Would?"
It seems an impossible task to take on this iconic Alice in Chains song. But Mirel did and she succeeded. The song is both her own and an homage to the famed grunge group. Her voice soars, the music shadows. Simply, it's beautiful.
Vanna Oh, "Holly"
One gets the sense that any song emanating from Vanna Oh would be terrific. As if she picks up a guitar and a timeless shock of lightning explodes from her fingertips. So, we'll choose "Holly" for fun here and for its vocal thunder. Easy comparisons to Jack White aside, Vanna Oh will be a household name if the music gods have anything to say about it.  
Golden Idols, "Uneasy"
The hits keep coming. This Emerald City four-piece has been grinding in the underground clubs and it's been paying off of late. Their latest single is mature and elegant in its robust rock. Lead singer Patrick Broz offers eerie vocals over a bouncy, rhythmic jaunt of a track. Looking forward to more from the Idols.
Richie Dagger, "Crying"
A Roy Orbison cover, this little gem of a song is delightful. Let's not overthink anything here: the vocals are pretty, the song's intention sweet and the view of the city at dusk is quite pleasant. Sometimes joy is just this.
Amsellem, "Old Pages"
Music, at its best, transports. Listening to this particular song, maybe you're taken to a cave dancing with firelight, man's first drum beating in the cavernous dark. Or, perhaps you're in the hull of a creaky ship crossing the Pacific. Either way, where were we? Oh yes, this song is tantalizing, tremendous.
Dark Smith, "Waiting"
This is the headline track for a demon prom. You're there in a tattered blue suit dancing with someone without eyeballs who you call your best friend. Dark Smith is playing on stage dressed in black as crystal balls turn and glisten from the ceiling in place of disco balls. Is it grunge, dreampunk or deathsparkle (new genre alert!)? Either way, it's authentic and mysterious.
The Salmonberries, "Reason To Be"
<a href="http://thesalmonberries.bandcamp.com/album/reason-to-be">Reason to Be by The Salmonberries</a>
This band has all the tools to make waves in the Northwest. At their core, they feel like a composition of all the best of 90s joy-powered rock 'n' roll. From the friendly and powerful vocals of singer Ray Hall to the nimble fingers of guitar player Minwook Park, the group is poised for a good summer and all of its "sweet sunshine."
Jacqueline Tabor, "Ain't nobody's business"
One of Seattle's best and most accomplished (jazz) vocalists, Tabor sings here in what looks like a little wine shop and café. While the song presentation is modest, the meaning behind it is like precise medicine. She sings to us so sweetly, pointing toward personal sovereignty. Bless you, Ms. Tabor.
Sindri Eldon, "The Road Ahead & The Road Not Taken"
While this artist travels between Iceland and Seattle, his music is available everywhere and one of Eldon's standout tracks is this thoughtful song. Combining pieces of Tame Impala, Presidents of the United States of America and some new wave 80s staples, we enjoy every second of this 7-minute rocker.
The Dip, "Spiderweb"
Part of the burgeoning pastiche of funk bands in Seattle, The Dip offers excellent musicianship with a tantalizing dark tone on this recently released track. Halfway through you go on a spiraling trip with an ardent saxophone while your mind bounces on the bass lines that suffuse the entire thing with mirth. Syncopation with charm and sophistication, that's the band's special sauce.
GravelRoad, "Monkey With A Wig"
Let's put a bow on this with a band that sounds exactly like their name. With this heavy, rocking group, you get a road pointed toward home riddled with shaking, gravely grit. It's as if a train is barreling down and the whole world is shook. But in song that feeling is transcendent.