There's something about hearing a great pop single in the flush of a gorgeous summer day that can crystalize every gold-tinted summertime moment you've ever experienced into three or four minutes of sustained bliss.
The latest perfect summertime pop song to gently but inexorably insinuate its way into the mixtape that is my cluttered head is "Limbo's Daughter," the first single off of Seattle band Tomten's latest long-player, Cremation Songs.
Part of it's that gently-building beauty of a melody, with a buoyant keyboard hook that wouldn't have been out of place on a Partridge Family record. Then there's the concise but lush production, and lead singer Brian Noyes-Watkins' unassumingly sweet tenor, anchored by gorgeous harmonies you could swim in. It is every great summer day you've ever had, wrapped up and delivered to your ears in one inviting sonic package. And if hearing it doesn't make you happy to be alive, I'd have to seriously question your sanity.
Truth be told, "Limbo's Daughter" is such a stunner of a track that I replayed it at least a half-dozen times before I could tear myself away to listen to the rest of the album. So it's a relief and a joy to report that the entirety of Cremation Songs is another finely-crafted, near-perfect jewel in Tomten's baroque pop treasure chest.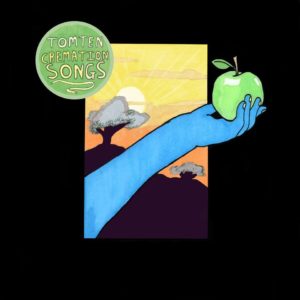 Noyes-Watkins, Tomten's principal songwriter and keyboardist as well as its lead singer, stays the creative course with Cremation Songs. The DNA of his ornate, keyboard-based songwriting is threaded with strands of The Zombies, Procul Harum, The Kinks at their most gently-psychedelic, and Belle and Sebastian. There's nothing broke that needs fixing in Tomten's universe, but even the most finely-crafted machine invites refinement, and Cremation Songs sports the band's most wonderfully refined batch of tunes yet.
It's entirely appropriate that Cremation Songs, like all of Tomten's preceding albums, comes out in the summer. Above and beyond the breezy warmth of "Limbo's Daughter" and tracks like the glistening 12-string "Ballad of Bluebell," there's an organic beauty to Cremation Songs that makes it a perfect soundtrack for walking through a tree-shaded park during summer's dog days. Noyes-Watkins, bassist Dillon Sturtevant, and drummer Jake Brady are unapologetic classicists, so every note and chord shift delivers on that beauty with meaning and texture. This is a record with a lot of highlights that's also disarmingly easy to listen to all the way through, without interruption, repeatedly.
Informed by influence as it is, Cremation Songs is no museum piece. It's played and sung with undeniable love and care, and the production by the band and co-producer Andy Meyer sports all manner of little details that reward each successive listen. There's much enchantment in the reverb-frosted ELO-inspired backing vocals on "Cloud Man Calling," and in the melancholy ache of guest pedal-steel player Bill Patton's descending notes on "Laurent's Tomb." Even the instrumental "Dieter" burbles with flourishes of synth-xylophones and silent-movie keyboards that suggest a Beach Boys Pet Sounds outtake garnished by a Casio autopilot beat.
Elsewhere, "Weissnichtwo" largely chucks the baroque finery for some sparkling but spunky guitar rock and more soaring harmonies. It is, in its own graceful way, the closest thing to a top-down Camaro rock song the band's ever generated, and it's a worthy runner-up to "Limbo's Daughter" in the instant-catchiness department.
In case the album's title wasn't enough of a hint,  there's some melancholy and withering wit thrumming beneath the abiding instrumental loveliness of Cremation Songs. "I made an effort to be here, I don't know why anymore/I stick out like a sore thumb, and I look like a whore," Noyes-Watkins sings in his most deceptively innocent Ray Davies schoolboy croon amidst glistening 12-strings and angelic keyboards on "For The Worse."  At face value, the cheeky "King of Viridia" is an awesome, regal bit of Roxy Music-style art-rock where Noyes-Watkins' wonderfully arch singing channels Bryan Ferry. But it also sports some of the record's most trenchant words: When the song's protagonist sings, "I send my first born to guillotine, all for the chance to greet the king and queen," it's not hard to imagine him wearing the Renaissance equivalent of a red 'Make America Great Again' baseball cap.
Don't be put off by all this subtext, though. Cremation Songs is, first and foremost, one gorgeous bit of songcraft. Nowhere is it more prominent than on "First Song of Spring," a spare ballad with vividly poetic lyrics, airy harmonies, and a thoughtfully-deployed mellotron creating its own pocket string-and-woodwind universe. Like all the best (and smartest) pop bands, Tomten knows when to let go of all pretense and just lay in the cool grass as the summer sun threads through the tree branches overhead.
[Cremation Songs officially drops July 7 on the band's indie label, Plume Records, and they play their record release party on July 14 at the Sunset Tavern in Ballard.]