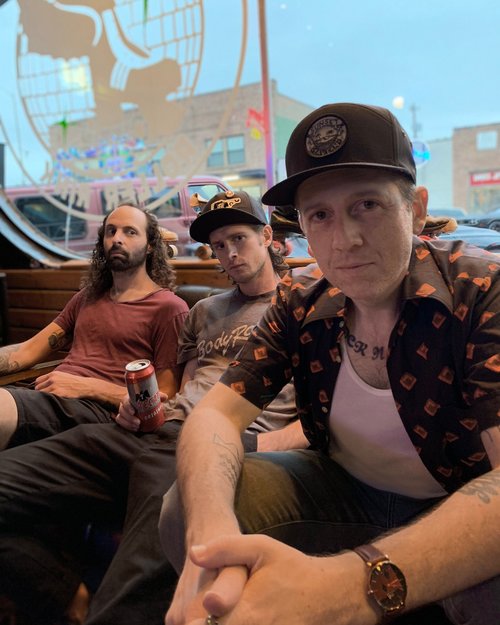 There's a Rock-of-Gibraltar stability and comfort in Planes on Paper, the acoustic duo co-fronted by singer/songwriter/guitarist Navid Eliot.
A lot of that welcoming quality comes from Eliot's lived-in wanderer's voice. It's elemental but soothing, like tall grass that bends but still endures amidst the gusting tumult of a windstorm. And that lyrical and literal voice provides the thread that connects Eliot's new project, Bodies on the Beach, to his established acoustic work.
Artist Home is proud to premiere the live clip for "Ghost," the flagship single (and title cut) from Bodies on the Beach's forthcoming EP.
Eliot's always had a knack for getting something special out of a guitar. Here, he's plugging in, using his electric and the time-honored template of the rock trio to craft something that's alternately intimate and epic. 
Eliot hasn't forsaken his sense of melody or his gift for tempering emotional upheaval with a sense of resilience. Opening with a gently-picked guitar pattern that'd sound perfect at the intro of a Planes on Paper song, "Ghost" gradually builds from there, with Andrew Ginn's drums percolating to a sturdy roll and Evan Gackstatter's gently-insistent bass driving to a surging chorus where Eliot's six-string soars and chimes like Johnny Marr going Americana. All along, Eliot's lyrics wander from the abstract into a place of hard-won emotional healing ("Hope you finally found a way/to finally quiet your mind"). 
Ghost, the EP, includes four other terrific pop songs, all enriched by Eliot's voice, his melodic playing, and a sense of anthemic drama that indirectly touches on British Invasion pop ('60s and '90s eras) as well as a simpler (but equally riveting) variation on Built to Spill's variety of big-rock introspection. It's gotta sound phenomenal live.  
"Ghost,' the single, debuts officially on October 17, while the Ghost EP sees full release on December 4. Other, yet-to-be-announced singles should be seeing release in November.