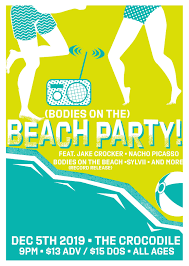 We're big fans of Bodies on the Beach, the Planes on Paper side project whose bang-up single, "Ghost," premiered here back in September.
The band is now celebrating the release of the entire (terrific) Ghost EP with a special release party at The Crocodile, and it's definitely going to be something unique.
In lieu of playing it safe and programming three or four acts that skew similar in sound, Bodies has decided to shake the tree by inviting a bunch of good friends with styles that roam all over the sonic map.
To that end, the band's asked local hip-hop dynamo Nacho Picasso to drop rhymes, with Bodies providing instrumental backing. EDM producer Jake Crocker (Bodies drummer Andrew Ginn's cousin and a family friend of Bodies guitarist/singer Navid Eliot), and fellow Artist Home fave Sylvii will be joining the bill.
Rather than keeping each artist isolated in their own individual set, all of the aforementioned acts will be doing some serious and welcome cross-pollinating: In addition to Bodies backing Picasso, Sylvii and Eliot will sing each other's harmonies, and Crocker is adding electronic elements to a few of Bodies' songs. Crocker's also planning to debut a remix he's done of one of own tunes, and he'll close the night with an EDM dance party. All told, it's a darn worthwhile way to spend a school night.
The party begins at 8:00 PM tomorrow night, and advance tickets are still available here.